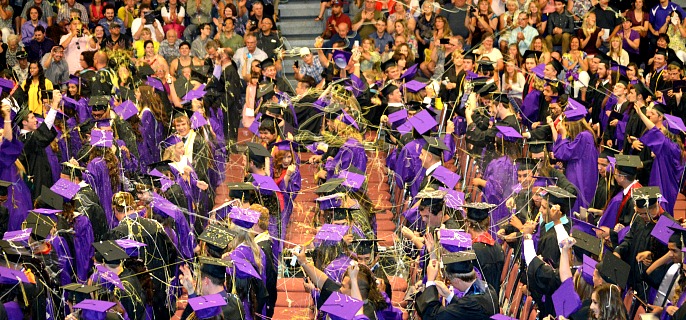 [quote style="2″]HHS Grads Ready for Next Chaper in Life[/quote]
Hermiston High School's graduating class of 2014 said farewell to their high school careers and embraced their futures during their commencement ceremony Saturday.
Senior Jisselle Garcia opened the ceremony by welcoming guests and thanking families and the school faculty for the "tough love" they have shown this year's graduates.
"Thank you, parents, for putting up with us these 18 years. You are the real MVPs," she said. "We started this together; now we're ending this together."
HHS Principal Jocelyn Jones recognized the many accomplishments of the Class of 2014. She noted that a total of 33 students were graduating with their honors diplomas. Four of these students had also maintained 4.0 GPAs and therefore earned the title of valedictorian.
The Class of 2014 has earned well over $4 million in scholarships, as well as 3,757 college credits which have already been applied to their transcripts for winter term — with more credits to be applied within the coming week.
Jones said that this graduating class "qualifies as one of the finest in HHS history."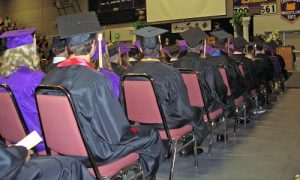 Hermiston School District Superintendent Dr. Fred Maiocco offered accolades and advice in his presentation of the class. "This truly is an accomplished and extraordinary class," he said. "You know that receiving your high school diploma was not an automatic. It took concerted effort on your part and personal accountability to reach this milestone."
With that, Maiocco told the graduates that this was just the beginning of their accountability as adults: "Each of you is now accountable for yourselves and for where you plan to go. Even if you don't know your final destination, while on your journey I encourage you to apply the lessons that you've learned here."
"Keep on learning," he encouraged them. "Practice the habit of critically thinking about your world and engaging in it. Have a voice. Register to vote. Make this a better place because of your time here, and do your part to encourage those in the future."
Maiocco emphasized the importance of building relationships. "Don't forget to know and invest in love. Life is much richer for all of us when it is shared with others."
In closing, Maiocco read the poem "Success", attributed to Ralph Waldo Emerson:
To laugh often and much;
To win the respect of intelligent people and the affection of children;
To earn the appreciation of honest critics and endure the betrayal of false friends;
To appreciate beauty, to find the best in others,
To leave the world a bit better, whether by a healthy child, a garden patch or a redeemed social condition;
To know even one life has breathed easier because you have lived.
This is to have succeeded.
Graduating senior Riley Mulvihill spoke "from the heart" in addressing the class history. He shared the social difficulty he had experienced early in his high school career.
"My story is not uncommon; in fact, it is too common," he said. "We have all had to overcome obstacles, just trying to feel like we belong in the sea of humanity that is high school."
Mulvihill suggested that these struggles are not only necessary, but ultimately good. They "helped us realize the good things we had a little bit more, made it a little bit easier to empathize with the underdog, made us realize the enormity of our achievement here today. We made it; and as a result, we have become stronger."
He challenged the graduating class to make their high school years a foundation for the future.
"The very word 'commencement' means 'beginning'. Think not of this day as an end, but as a fresh start to something new, to something beautiful. Make every day the best day of your life."
Senior Arielle Handforth spoke about the class prophecy, addressing the dreaded question "What are you going to do with your life?"
Handforth offered comfort to her fellow graduates: "Dream big, HHS, but remember that dreams will change. And if you don't quite make it to those shiny, bright stars, there's always a luminescent moon to fall into. These 12 years are only the beginning. Go out and find your true passions."
Senior Katelyn Winnett gave her farewell speech with a dash of humor: "All of these disruptive children need to be taken out to the commons. Oh, wait a second — we aren't disruptive children anymore; we're disruptive adults."
Winnett encouraged her fellow graduates to take control of their futures, to take the good memories from high school and build better ones in the years to come. She quoted William Jennings Bryan: "Destiny is no matter of chance. It is a matter of choice. It is not a thing to be waited for; it is a thing to be achieved."
"And just remember," Winnett said in closing, "unlike high school, your boss will not accept notes from your mother."
Then the Hermiston High School graduating class of 2014 turned their tassels and, covered in Silly String, exited the gymnasium to celebrate with their families and begin the next chapters in their lives.