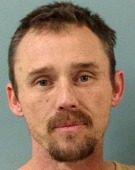 A slow-speed pursuit involving Hermiston police and a Hermiston man ended late Sunday morning with the driver facing several charges.
The incident began around 2:15 a.m., Sunday morning when the Hermiston Police Department Street Crime Unit attempted to stop a vehicle on an equipment violation in the area of N.E. Sixth Street and E. Catherine Avenue. According to Hermiston Police Chief Jason Edmiston, the driver failed to stop and continued at a slow rate of speed into the Dun Rollin Trailer Park at 445 E. Jennie Ave.
Morgan J. Campbell eventually stopped his 1997 Honda Accord and complied with officers. Campbell, who is listed as a transient of the Hermiston-Pendleton area, was taken into custody on charges of attempting to elude police, failure to carry a driver's license, unlawful possession of less than an ounce of marijuana, and three traffic violations.
Campbell was lodged at the Umatilla County Jail.