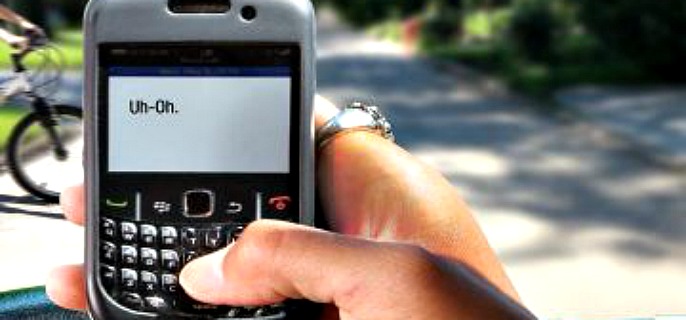 During April, the Oregon State Police (OSP) is joining law enforcement and traffic safety partners to increase awareness and save lives during national "Distracted Driving Awareness" month.
OSP, ODOT, law enforcement in Oregon and around the nation, along with the National Highway Transportation Safety Administration (NHTSA) consider distracted driving to be an emerging highway safety issue that must be addressed. OSP troopers will be participating in a special week of enforcement, April 10 – 15, as well as other dates during the month. Enforcement efforts will be stepped up toward preventing traffic crashes that may be connected with distracted driving.
Distracted driving-related behavior may be factors in roadway departure crashes such as head-on, sideswiping another vehicle, fail to obey traffic control devices, fail to maintain lane of travel, and rolling over or colliding with a fixed object off the highway.
Distraction is anything that diverts the driver's attention from the primary tasks of navigating the vehicle and responding to critical events. To put it another way, a distraction is anything that takes your eyes off the road (visual distraction), your mind of the road (cognitive distraction), your hands off the wheel (manual distraction) and hearing something not related to driver (auditory distraction).
OSP and ODOT remind drivers of all ages that a lot can happen during a period of distracted driving, no matter how brief it may be. For example, when sending or receiving a text, a driver's eyes are taken off the road for an average of 4.6 seconds. At 55 mph (the posted speed on the targeted highways listed above), this is the equivalent to driving the length of a football field while blindfolded.
According to ODOT, from 2008 – 2012 in Oregon, 13 people were killed in crashes involving drivers using a handheld mobile communication device to talk or text. During that same five year period in Oregon, 65 people died in crashes involving any kind of distracted driver.
Note: Since Oregon's cell phone law went into effect in January 2010, OSP troopers during the next four years (2010 – 2013) reported over 21,000 enforcement contacts resulting in more than 8,100 citations and 13,000 warnings. Effective January 1, 2014, Senate Bill 9 changed Oregon's traffic offense of operating a motor vehicle while using a mobile communication device from a class D violation to a class C violation. The minimum fine for a class C violation is $142, and the fine for this offense can be as high as $500.The fines increase is aimed at reducing the number of crashes that involve a driver talking on a handheld phone or texting. Since the penalty change took effect, OSP troopers during the first two months of 2014 reported 460 citations and 381 warnings.
More Stories from Northeast Oregon Now:
Corps Begins Spring Fish Operations
Free Youth Fishing Day Set for McNary Ponds
80-Year-Old Man Found After 2-Hour Search