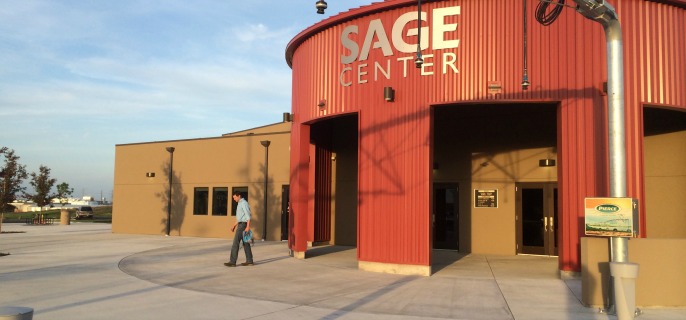 [quote style="2″]Interactive Visitor Center Plans New Exhibits in Coming Year[/quote]
Folks in Morrow and Umatilla counties are well aware of the role agriculture plays in the region, and thanks to the SAGE Center in Boardman, people from all around the state are figuring it out, as well.
More than 20,000 people visited the center in its first year, according to SAGE Center Manager Kalie Davis. The center, an interactive visitor center that highlights sustainable agriculture and energy in the region, is particularly busy during the summer months, with an average of 35-50 people coming through each day and as many as 75 on the weekends.
Davis said the center, developed by the Port of Morrow, keeps busy during the other months, as well, with its school visit program. During the past school year, the center played host to 3,700 students and 653 school staff members.
"We do not charge schools for educational tours and we had students come from as far as Central Oregon, Corbett, and Baker City," Davis said.
During the center' first year, Davis kicked off a Visitor of the Day program as a way of engaging visitors and sharing their stories with people who follow the center on social media. Each day, Davis picks an individual, couple or family and shares their story on Facebook of how they found out about the SAGE Center,
"This also lets us know how our visitors are hearing about us so we can continue to pursue those marketing avenues," she said.
The center also draws visitors through events such as Tillamook Cheese Days and monthly movie nights during the school year. The center also held a successful job fair in March that drew nearly 400 people. Davis said the center plans to hold another job fair next march.
Davis said the center is planning a pair of new exhibits within the next year. Portland General Electric will have an exhibit at the center showcasing power generation in the region. The Oregon Dairy Commission has raised money to build a simulated milking cow and exhibit that will focus on dairy operations in Morrow County.
"We are very proud of the fact that Morrow County is the highest dairy producing county in the state," Davis said.
From Memorial Day through Labor Day, the SAGE Center is open from 10 a.m. to 5 p.m. Sunday through Thursdays, and from 10 a.m. to 6 p.m. on Fridays and Saturdays. From Labor Day through Memorial Day, the center is open from 10 a.m. to 5 p.m. Monday through Saturday.
For more information or to arrange a tour, call the center at 541-481-7243. Also, be sure to check out the SAGE Center website.