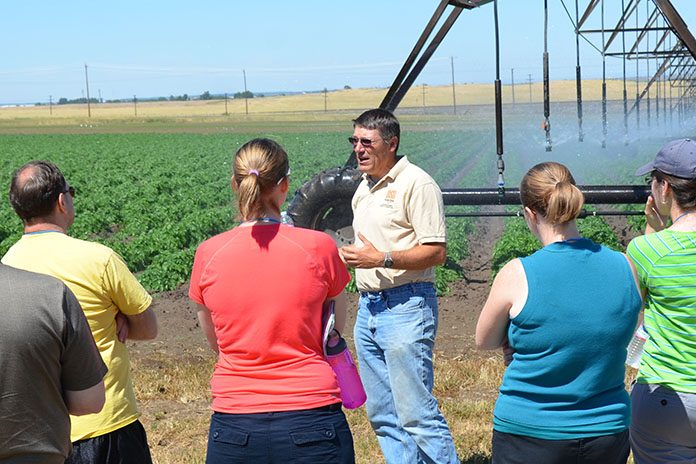 More than 100 Hermiston-area individuals and businesses served as sponsors and donors for the Don Horneck Banquet & Auction on Sept. 22.
Sponsored by the Hermiston Lions Club, the event honored the longtime agronomist at OSU's Hermiston Agricultural Research and Extension Center. Horneck, who died in 2014, was an active member of the Lions Club.
Proceeds go to the Lion Club's community project fund to support projects in Horneck's honor. Previous donations have supported the Oregon State University Foundation and Blue Mountain Community College's Precision Irrigated Agriculture Center.
This year, a portion will go to Hydromania, Umatilla Electric's summer day camp focused on science, water, energy and environment, which marked its 20th anniversary in 2018.
2018 SPONSORS & DONORS
The Hermiston Lions Club would like to thank the following sponsors and donors who contributed to our recent dinner auction. Your generosity is appreciated and what made this event so successful. Thank you!
SPONSORS
Nurtien Ag Solutions
Threemile Canyon Farms
Lamb Weston
Agri Northwest
Rogers Toyota of Hermiston
Barnett & Moro, P.C.
Simplot Soil Builders
K&L Madison, LLC
Wilbur Ellis Co.
Pioneer Seed Co.
Umatilla Electric Cooperative
Purswell's Pump Co.
Wheatland Insurance Center
IRZ Consulting
Bud Rich / G-2 Farming
Elmer's Irrigation
Hawman Farms
Hansell Farms
Sunheaven Farms
United Grain Growers
Morrow County Grain Growers
Banner Bank
Miller Realty Inc.
Les Schwab Tire Center
Eastern Oregon Telecom
Mr. Insulation Company
Photography Plus
Columbia Harvest Foods
First Community Credit Union
Mike & Diane Henderson
DONATIONS
Sire Coca-Cola Dave Caldwell
Columbia Crest Winery
Art Prior
Ordnance Brewing Co.
Starbucks Coffee
Rep. Greg Smith
Horace Mann Inc
Devin Oil
AUCTION ITEMS
NW Farm Supply
Wes Wise Construction
Cycletown
Barnett & Moro
Phil Hamm
Denny's Restaurant
Stanfield Hutterian Brethren Farm
Hales Restaurant
Walmart Distribution Center
City of Hermiston
Dairy Queen
Larry Usher
Mark & Ruth Schwartz
Madison Farms
Eastern Oregon Mobile Slaughter
Double T Farms
Ky Miller & Charlie Clupny
Columbia Crest Winery
Goss Family Jewelry
Wild Horse Foundation
Vicki Horneck
Hermiston Agricultural Research and Extension Center
Threemile Canyon Farms
Carla McLane
Umatilla County Fire District 1
Life Flight
Carley Schriever
Affordable Family Eyewear
Smitty's ACE Hardware
O'Reilly Auto Parts
Dave's Barbershop
Pet Sense
Desert Lanes
Scott's Cycle Sports
Kent & Laura Madison
Rick's Carwash
USA Sub & Grill
Kopacz Nursery
Oriental Garden
Ixtapa
Shari's Restaurant
Delish
Carlson's Pharmacy
Cathy Wamsley
Cottage Flowers
O So Kleen
Sanitary Disposal
Umatilla Head Start
Java Junkies
Alive & Well
Andee's
Ekone Oyster Co.
Lifetime Vision Source
Kuhn Law Office
Country Kennel Grooming
Hood River Veterinary
Hermiston Drug and Gift
Pet Parade
Oregon Grain Growers
Ochoa Jewelry
Big Lots
Nutrien Ag Solutions
Jack McGuire, Farrier
Maurices