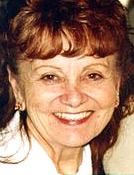 Alberta "Micki" Mary Norlen, 77 of Stanfield, died on Tuesday April 16, 2013 near Echo in a vehicle accident.
She was born on Dec. 24, 1935 in Queens, N.Y.
A Celebration of Life will be held on Sunday April 21, 2013 at 1 p.m., at the Hermiston Eagles Lodge at 160 N.W. Second St., in Hermiston. Disposition was by cremation.
Burns Mortuary of Hermiston is in care of arrangements.
[spacer size"15″]