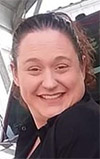 Amber Lynn Wood passed away on Sept. 3, 2021 at her home in Hermiston at the age of 43.
She was born on June 29, 1978 in Portland.
Amber attended elementary schools in Walla Walla, Wash. and Aberdeen, Wash., middle schools in Aberdeen and Spokane, Wash., and high school in Montesano, Wash.
She was a line cook at Crossroads Travel Center in Umatilla. She enjoyed spending time with her friends and family, and loved her daughters fiercely.
She is survived by her estranged husband, John Farr; stepfather and mother, Marty and Darlene (McCubbins) Schmid; three daughters, Chance, Cadence and Cydnee Wells; stepson and daughter-in-law, Jared and Sierra Farr; stepsister, Corri Schmid; grandmother, Goldie McCubbins; uncles and aunts, Shawn and Malinda Prendiville, Jim and Eileen Daniel, Michael and Julie McCubbins and Brian Lippincott; several cousins, grandchildren and extended family; and special friend, Sonny Phipps.
She was preceded in death by her father, Steven Torrey Wood; uncle and aunt, Donald and Evelyn Patterson; uncles, Robert McCubbins and James Mason; grandfather, L.D. McCubbins; and grandmother, Patricia Mason.
In lieu of flowers, donations can be made to a charity of your choice that helps foster children and children in need of safe places to stay.
A celebration of life has been scheduled for Saturday, Sept. 25 at Spillway Park in Umatilla from 1 to 4 p.m. Desserts will be served and bottled water will be available. Please bring your lawn chairs, favorite pictures and stories of Amber to share.
Please share memories of Amber with her family at burnsmortuaryhermiston.com.
Burns Mortuary of Hermiston is in care of arrangements.