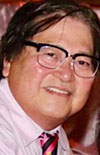 Aniceto Garcia Natera of Hermiston passed away at his home in Hermiston on Jan. 9, 2021 at the age of 62.
He was born on April 17, 1958 in the Philippines to Leovigildo Adante Natera and Evangelina Rodriguez Garcia.
Aniceto lived in the Philippines throughout his childhood and early adult life. As a young man he joined the U.S. Navy construction battalion, where he served for many years until retiring in the early 2000s. In 1998, he moved to Oregon and settled in the Hermiston area soon thereafter. He then went back to school to become a LPN, working as a home health nurse for many years.
He was a member of Our Lady of Angels Catholic Church in Hermiston.
He is survived by his children, Anthony Natera, Lea Anne Natera (Marc Leonard) and Evangeline Natera; three brothers, Leonides Natera, Leopoldo Natera and Eleuterio Natera; and many extended family members.
He was preceded in death by his wife, his parents, and several brothers and sisters.
A funeral Mass will be held at Our Lady of Angels Catholic Church (due to COVID-19 restrictions, a time will not be announced).
To leave an online condolence for the family, please go to burnsmortuaryhermiston.com.
Burns Mortuary of Hermiston is in care of arrangements.