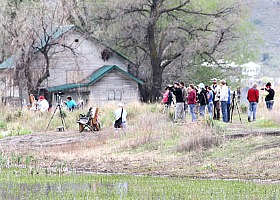 The ninth annual Ladd Marsh Bird Festival will take place May 16-18 in La Grande.
The festival, held at the Ladd Marsh Wildlife Area, opens Friday night with music featuring original songs about birds and birding by the Odd Strings followed by a presentation titled, "The State of the Birds," by Terrell D. Rich of Partners in Flight.
Beginning Saturday morning and through weekend, the wildlife area is open to birding and exploration. From 6 a.m. to noon on Saturday, six stations will be staffed by local birders to assist visitors with finding and identifying birds.
Kids' activities including building a birdhouse, coloring a canvas tote and the Junior Birder program will be available from 9 a.m. to 3 p.m. Also on Saturday, participants can take in an afternoon bird walk, a live raptor presentation by Blue Mountain Wildlife and information on native plants for birds.
On and off-site field trips Sunday wrap up the weekend. Registration for the Bird Festival is free but is required in order to receive your permit to be on portions of the wildlife area normally closed to entry.