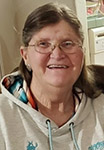 Arleen Marie Wanstrath of Irrigon passed away in Hermiston on Sept. 4, 2021 at the age of 68.
She was born on July 15, 1953 in Hamilton, Mont. to Winston and Eva Kopp Wanstrath.
Arleen grew up in Darby, Mont., where she attended school. After high school she married Charles Flanagan in Darby, Mont., and from this union four children were born: Rachel, William, Robert and Amanda. The couple later divorced.
Arleen moved back and forth from Darby, Mont. to Irrigon for several years. She moved to Irrigon permanently in the mid-1980s, where she had resided since. She worked as a school bus driver for Columbia Bus Company in Morrow County for 16 years.
Arleen enjoyed riding horses and was a member of the Umatilla Sage Riders Club. She also enjoyed classic hotrod cars. She loved time with her family, especially with her grandkids.
She is survived by her children, Robert Flanagan, Rachel Coen and Amanda McCombs; grandchildren, Emma Flanagan, Logan Harrison, Kevin Coen and Morgan McCombs; mother, Lillian Wanstrath; sister, Kelly Ralston; and brother, Joe Wanstrath.
A celebration of life will be held at 1 p.m. on Sunday, Sept. 19, 2021 at the Sage Riders Arena, 81907 N. Highway 395, Hermiston.
To leave an online condolence for the family, please go to burnsmortuaryhermiston.com.
Burns Mortuary of Hermiston is in care of arrangements.