A Nebraska fiber artist will feature art quilts in "Parallel Worlds," an exhibit opening in the Betty Feves Memorial Art Gallery at Blue Mountain Community College on Thursday, Jan. 10. The Gallery will host an opening reception that day from 4:30-6:30 p.m., and will include an Artist Talk at about 5 p.m.
Artist Shea Wilkinson, a self-taught fiber artist, creates art quilts using free motion quilting and hand embroidery. Using materials such as silk and cotton fabrics, polyester, cotton and silk threads, and wool, Wilkinson creates stories using stitch to amplify the textures of the spaces.
"The stories that I tell through my work are related to imagery from science, natural and extraterrestrial worlds, and mythology," Wilkinson says of her work. "I find natural phenomena has the potential to seem unreal or supernatural when seen from an unusual perspective, which I strive to share with the viewer."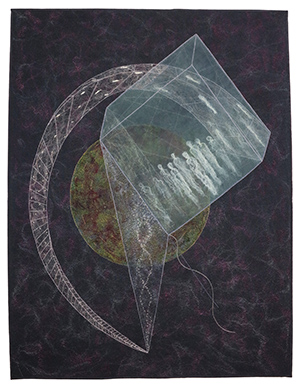 Wilkinson is interested in educating viewers about fiber art, so her exhibit will also include a display of time-lapse videos of her working in her studio. Additionally, Wilkinson will provide an Artist Talk via Zoom video conference during the opening reception Jan. 10 from her studio in Omaha. Attendees will be able to ask questions and interact with Wilkinson during this time.
Wilkinson has exhibited nationally and has received numerous awards for her work, including the James Renwick Alliance's Chrysalis Award for distinguished emerging artist in 2016. She has a Bachelor of Arts degree from the University of Nebraska at Omaha in International Studies and German Language.
"Parallel Worlds" runs Jan. 10 through Feb. 7. The Betty Feves Memorial Art Gallery is open MondayThursday from 9:30 a.m. to 1:30 p.m. and by appointment by calling 541-278-5952. The Gallery is located in Pioneer Hall at the BMCC Pendleton campus, 2411 NW Carden Ave. The Gallery is a non-profit exhibit space connecting emerging and established artists and their work with students, staff and the general public in eastern Oregon. Contact Feves Gallery Director Lori Sams with questions, lsams@bluecc.edu or 541-278-5952.