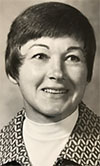 Barbara Jean (Moore) Lynch passed away on Sept. 26, 2020 at the age of 96.
She was born on Dec. 21, 1923 in Yakima, Wash. to Sam and Anita Moore.
She lived in Pendleton and Hermiston as a child and graduated from Hermiston High School in 1941. She married Edward J. Lynch in 1943 and after his passing married Gerry Whitney in 1982.
She worked for several years as a school secretary and volunteered in numerous groups at the city, county and state level. She was elected to the Hermiston City Council in 1968 and 1972 and to the Umatilla County Commission in 1974.
In addition to her jobs and volunteer positions, her interests included swimming, golf, tennis, bicycling, bridge, traveling, gardening, reading and tying quilts. Her greatest joy, however, was her family.
She is survived by her son, Jim Lynch (Judy); daughter, Kathy Gibbons (Jim); granddaughters, Melissa Gilley (Sean) and Jill Drach (Peter); and six great grandchildren, Kate, Alex, Carter, Jenna, Cohen and Tyson.
She was preceded in death by her parents, brother, husbands, and grandson, David.
At her request, no service was held.
Donations in her memory can be made to the American Cancer Society or the American Heart Association.
Please share memories of Barbara with her family at burnsmortuaryhermiston.com.