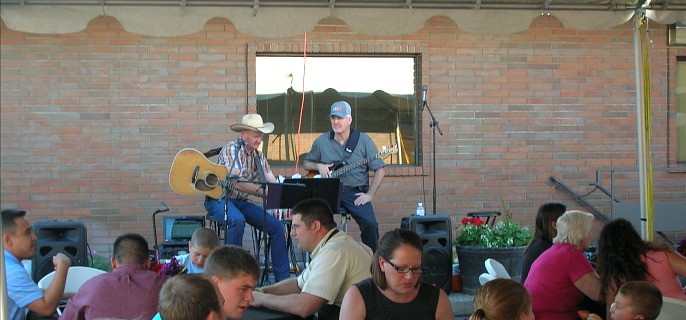 Members of the Hermiston community joined Dennis Barnett and Jerry Moro in the parking lot of Barnett & Moro PC Wednesday evening to celebrate the 30th anniversary of the accounting firm.
The Alive After 5 event, held by the Hermiston Chamber of Commerce, included live music performed by John Wambeke and Ric Jones, a plentiful dinner, and ice cream to fight the heat. The firm also held a lunchtime celebration earlier in the day, which Moro said about 250 people attended.
"We're very grateful to be successful in this community," Moro said. "Hermiston has been good to us."
Barnett and Moro began working together in 1980 at the Hermiston branch of the LeMaster & Daniels accounting firm. In 1984, that branch of the Spokane-based firm closed its doors, and Barnett and Moro started their own firm with then-partner Hank Dennis.
The firm brought three more partners onboard in 2008: Cameron Anderson, Kristie Shasteen, and Rick Stoddard. Barnett & Moro PC offers accounting, auditing, estate planning, and income tax preparation services.
"It's been a great 30 years. We have been very blessed," said Barnett. "The community is open to growth, so it's very welcoming."
Contact Barnett & Moro PC at 541-567-5215 or visit the office at 495 East Main in Hermiston.
More Stories from Northeast Oregon Now:
Festival of Lights Seeks New Organizers
Driver Dies in Single-Vehicle Accident
A Portland Legislator's Thoughts on Northeast Oregon