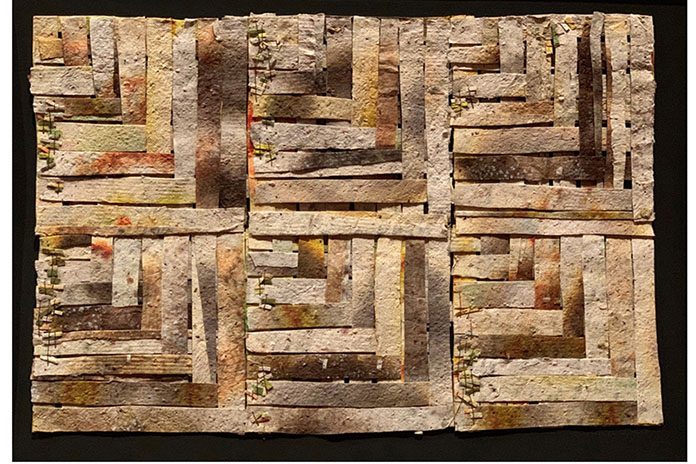 The Betty Feves Memorial Art Gallery at Blue Mountain Community College will feature the work of Marie Noorani, a paper artist from Richland, Wash., in the Gallery's next exhibit, "How It Looks on Paper," Feb. 14-March 14.
The community is invited to an opening reception for the exhibit on Thursday, Feb. 14, from 4:30-6:30 p.m. in the Gallery. The event is free, family-friendly, and will include light refreshments. Noorani will provide an Artist Talk at about 5 p.m.
Through her process for making each piece, Marie creates, destroys and then restores. First, she makes handmade paper from natural fibers, recycled material, and small organic matter.
"I destroy it," she said. "I spray it with ink, soak it in wax, tear it by hand, and cut it with razors. It is subjected to heat, held under weights, pierced with wires. Yet, moved by the inherent fragility and vulnerability of this medium, I compassionately and imperfectly reassemble the parts into my own ironically beautiful Frankenstein."
Noorani has exhibited nationally and internationally, and has work in the permanent collection of Columbia Basin College in Pasco, Wash. She also recently received an award at the AMATERAS Paper Arts Festival at the Royal Palace of Culture in Sofia, Bulgaria.
More information about the artist can be found on her website.