Blue Mountain Community College English and writing instructor Shaindel Beers was recently awarded the Woodrow Hall Top Shelf Award for her poetry collection, Secure Your Own Mask.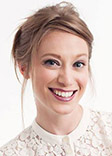 The award, from Poetry Jumps Off the Shelf, honors books of poetry published in 2018. Beers released Secure Your Own Mask in 2018 with White Pine Press, and has earned several honors for the collection, which features poems that deal with domestic violence. She won the White Pine Poetry Prize for 2017 for the publication, and Secure Your Own Mask has continued to win praise from the literary community.
"It's a great honor to win a Woodrow Hall Top Shelf Award from Poetry Jumps Off the Shelf because their mission is so wonderful," Beers said. "It is to 'bring poetry out of the libraries, bookstores and classrooms into the general public arena.' I applaud this mission because poetry is for everyone. Secure Your Own Mask is a deeply personal book, and I'm heartened that it's really resonating with people, especially people who might not have thought of themselves as poetry lovers."
Secure Your Own Mask is Beers' third published book, following A Brief History of Time (2009) and The Children's War and Other Poems (2013), both from Salt Publishing. She also serves as poetry editor of Contrary Magazine. Her books are available for purchase through Amazon or through Beers' website, www.shaindelbeers.com.