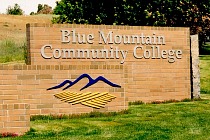 Blue Mountain Community College will offer a Real Estate Broker Pre-license course during Spring Term 2015 at the Hermiston campus.
The class will begin on Tuesday, March 31, and will continue throughout the term on Tuesday evenings from 6-9 p.m. This is an accelerated course with a combination of classroom instruction and online study that in 10 weeks will have students ready to take the state licensing exam. The cost of the class is $600, which includes an eight-hour intensive exam prep session at the end of the course.
The class combines self-study online and classroom instruction and meets all Oregon Real Estate Agency pre-licensing criteria. The fee includes all course materials. The course is taught by an experienced principal broker, Boyd Harris. For additional information contact Linda Forbes at linda@sts.careers or call 541-510-4106. Register for the class online, or for registration information, contact BMCC Hermiston at 541-567-1800 or BMCC Boardman at 541-481-2099.