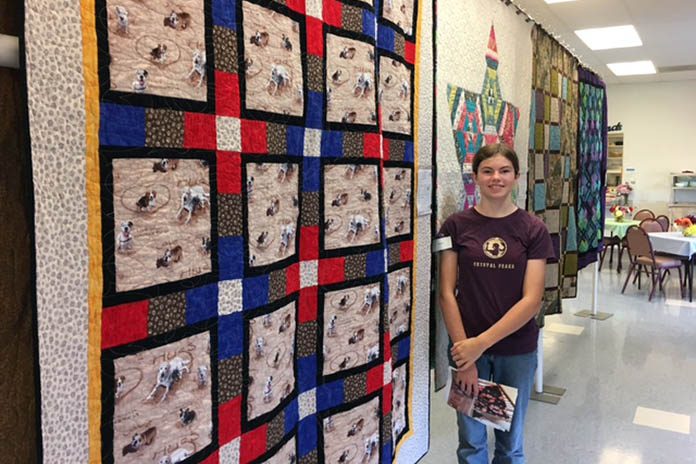 Two new categories have been added to the Oct. 13-14 Boardman Quilt Show.
The categories: People's Choice Award for ages 9-11; and People's Choice Award for ages 12-14 will recognize the work and skills of younger quilters.
"Entries by younger quilters have always been included in the Annual Fall Quilt Show, and we want to encourage their work by having People's Choice Awards just for young quilters," said Kathy Hyder, longtime Boardman Quilt Group participant. Youth that exhibited quilts in 4-H or Open Class at county fairs are encouraged to display their projects.
The 13th Annual Show is open to all interested quilters. Now is the time to finish quilts in process, or to locate your Granny's treasured quilt. Both are welcome to be displayed at the annual quilt show. There is no fee to exhibit a quilt, but an entry form is required. Entry forms must be submitted by Thursday, Oct. 6, and may be obtained at Aunty Ida's Quilt Shop, 435 W. Hermiston Ave, Hermiston, from 9 a.m.-5 p.m., or call 541-567-2726 or 541-481-9426, or email Killingbeckranch@yahoo.com.
Show hours are 10 a.m. to 4 p.m. on both days. Mini classes, educational displays, fabric and quilting supply vendors will be present. Featured quilter Lila Killingbeck will be sharing tips and examples of her art. Lunch will be available. Door prize winners will be drawn hourly. Admission is $3 and is good for both days. The winner of the raffle quilt, made by local quilters, will be drawn on Saturday afternoon, at the end of the show. Tickets for the annual Quilt Raffle will be sold at Morrow County Harvest Festival, the SAGE Center in Boardman, on Oct. 7 and during the show.
For information about Boardman Quilt Group activities, contact Kathy Hyder, 541-571-7009.