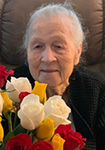 Geneva I. Choin of Hermiston passed away in Hermiston on Nov. 21, 2021 at the age of 90.
She was born on Dec. 12, 1930 in Milfay, Okla. to William and Lorean Waller Rollins.
Geneva grew up and attended schools in Bristow, Okla. and Pueblo, Colo. As a young adult, she lived in Alaska for three years before moving to Oregon. She lived in the Willamette Valley and in Astoria before moving to Hermiston in 1968. Geneva enjoyed volunteering at Salvation Army and loved attending Grace Baptist Church when she was able to. She loved her time with her family and cherished every moment helping to raise her grandchildren and great grandchildren. She was a talented baker who was known for her bread and dinner rolls and enjoyed crocheting. Geneva married Raymond Earl Choin in Anchorage, Alaska in January 1953.
She is survived by her sons, Christopher Douglas, William Douglas, Edgar Choin and Vernon Choin; two daughters, Marlena Tessoni and Brenda Sloan; many grandchildren and great grandchildren; brother, Doyle Elmer Rollins; four sisters, Joyce Cress, Bernice Veltri, Eileen Robinson and Loretta Vickers; and many extended family members.
She was preceded in death by her husband, Raymond on Sept. 3, 1984; her parents; a son, Marvin Ray Choin; and three brothers, Marvin, Marlin and Clinton Rollins. A graveside service will be held at 1 p.m. on Monday, Dec. 6, 2021 at the Hermiston Cemetery.
Family suggests memorial donations be made to Vange John Memorial Hospice. To leave an online condolence for the family, please go to burnsmortuaryhermiston.com.
Burns Mortuary of Hermiston is in care of arrangements.