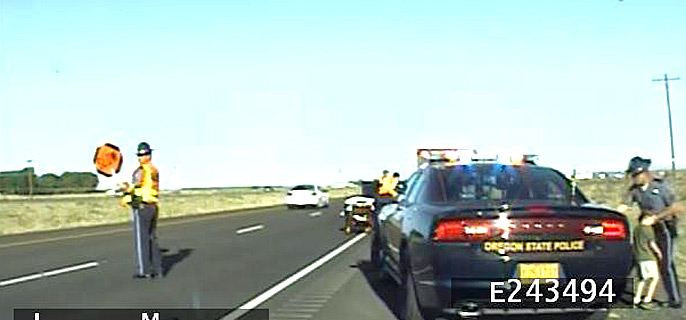 The Oregon State Police (OSP) is crediting the help of a 5-year old Spokane, Wash., boy for possibly saving the life of his 46-year old father who suffered a stroke while driving Sunday morning after crossing into Oregon. With the boy's help and a joint effort involving dispatch centers in Spokane and Oregon, OSP troopers and Umatilla County medical responders found the vehicle and got the man to a hospital for treatment.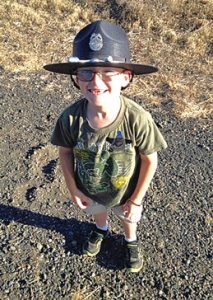 OSP Southern Command Center dispatch received a call from Spokane County, Washington 911 on Sunday, just after 7 a.m., about a report from Rachael Bardwell that her son left with his father, Robert Paget, early in the morning and she got a call from her son that they needed help because his father was having a medical emergency at an unknown location, possibly somewhere in Oregon.
During the next few minutes, Spokane 911 worked through the father's cellular phone company to determine the phone's signal pinged on a cellular tower near Stanfield.
OSP Southern Command Center Dispatcher Heather Whitaker provided information to Trooper John Lombardi and Trooper Joseph Dezso as they scrambled from the Hermiston area to check Interstate 82 and Interstate 84, a main route used by travelers from Spokane into Oregon.
Trooper Dezso called Robert Paget's mobile phone and thought he may be suffering a stroke. The phone was given to his son which allowed Trooper Dezso to ask several questions to try and get a description of the surroundings outside of the car. One of the most important details was provided when the boy said a train was passing by the car. This detail helped the troopers move toward Interstate 84 west of Interstate 82 where they knew train tracks paralleled the freeway lanes.
At 7:44 a.m., Lombardi spotted the vehicle on the westbound shoulder of Interstate 84 near milepost 177. OSP dispatch relayed the information to Umatilla County 911 allowing re-direction of an ambulance that was going to a separate location several miles away where it was thought the vehicle may be at. When Lombardi got to the car he found Robert Paget having difficulty speaking, was unable to move one side of his body, and starting to lose consciousness. Lombardi stayed with Paget until medical personnel arrived.
Trooper Dezso arrived a few minutes later and brought the boy back to his patrol car where he stayed with him for the duration of incident.
Hermiston Fire & Rescue medical responders arrived on scene at 7:55 a.m. and transported Paget to Good Shepherd Medical Center in Hermiston. Trooper Dezso took the man's son back to the OSP Hermiston office and then later to the hospital so he could accompany his father in an ambulance as he was being transferred to Kadlec Regional Medical Center in Richland, Wash.
Robert Paget was reported in critical condition Sunday and is expected to survive. Family members said he is showing encouraging signs of improvement.
Troopers Dezso and Lombardi praised the young boy's bravery in helping guide emergency responders to help his father.
"He is a very bright young man and definitely saved his dad's life. We are so glad to hear his father should pull through," said Dezso.
Rachael Bardwell said she recently talked with her son, Dax, about how to unlock the screen and call his mom or dad in an emergency. She urges parents to know the importance of teaching their kids to use technology for emergency purposes, including teaching your child how to find important phone numbers, how to unlock the screen, how to find the key pad on a smartphone, and when to call 9-1-1.
"Luckily, Dax was able to call me and I was able to use Spokane 911 to contact Oregon State Police dispatch to help find my son, his father, and the vehicle they were in," said Rachael.
According to Rachael, Dax wants to be a police officer some day. Despite the frightening situation involving his father's medical emergency, her son enjoyed his time spent with Trooper Dezso.
Teaching your children how to use dial 9-1-1 in an emergency can help get emergency responders to the scene quickly and may help save a life. Here is a link to a wireless carrier's advice on teaching children to dial 9-1-1:
The American Stroke Association link to stroke warning signs and symptoms: