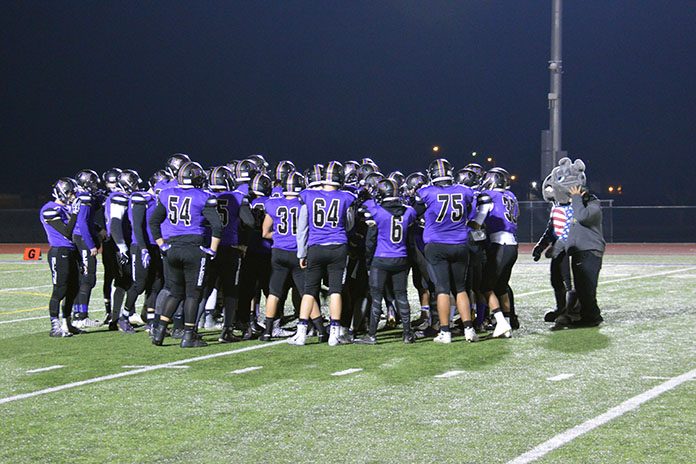 The Hermiston Bulldogs are the Oregon 5A state football champions for the second time in school history after topping the previously unbeaten Churchill Lancers Saturday night in Hillsboro.
The 38-35 win gives the Bulldogs their second state football title after winning it in 2014.
The Bulldog scored on their opening possession and only trailed briefly in the game, at one point leading Churchill by 18 points in the second quarter. The Lancers, however, used a potent air attack to get back in the game and forced Hermiston to have to control an onside kick late in the game to seal the win.
Running back and linebacker Jonathan Hinkle had the game of the night on both sides of the ball. The senior rushed for 116 yards and three touchdowns while making 14 tackles and intercepting a pass that quickly led to a Hermiston rushing touchdown – by Hinkle.
The Bulldogs' opening drive got a big boost when junior quarterback Andrew James hit receiver Joey Gutierrez for a 25-yard gain that set up Hinkle's first touchdown – an 18-yard scamper with 8:03 left in the first quarter to give Hermiston a 6-0 lead.
The Lancers answered right back when Tyson Bennion gave Churchill a 7-6 lead with a 4-yard run barely a minute after Hermiston had scored.
Hermiston regained the lead midway through the second quarter thanks to a key fourth-down conversion. Facing fourth-and-14 at the Churchill 33, James found Dayshawn Neal on a 20-yard pass that gave Hermiston a fresh set of downs. A few plays later, Keaton Mikami scored on a 6-yard touchdown. Hermiston attempted a 2-point conversion, but it was stuffed, but Hermiston regained the lead, 12-7, and would quickly expand it thanks to a Churchill turnover.
On their own 31, Churchill attempted a pass that was picked off by Youbani Razon that helped set up a 3-yard touchdown pass from James to Neal. Once again, a 2-point conversion attempt failed and Hermiston led 18-7 with just over 3 minutes left in the half.
On the first play of the next possession for Churchill, quarterback Jack Blackburn was again intercepted, this time by Hinkle who, one play later, increased Hermiston's lead to 25-7 on a 3-yard score.
Momentum, however, swung to Churchill's side when the Lancers moved the ball 77 yards in the final 2:34, capping off the drive with a touchdown pass from Blackburn to Jax Arnold to cut Hermiston's halftime lead to 25-14.
Turnovers led to scores all night for both teams. Early in the third quarter, Jordan Ramirez caught a long pass from James, but fumbled the ball, giving the Lancers possession at their own 35. Churchill soon cut Hermiston's lead to 25-21 on a 45-yard scoring pass from Blackburn to Lucas Schwin.
Two huge conversions were key to Hermiston's next score. Facing a fourth-and-one from the Churchill 44, James kept the ball and got the first down on a 4-yard run.
A couple plays later, on third-and-7 from the Lancers' 37, James found Neal on a 33-yard pass to set up a first-and-goal. Two plays later, Hinkle crashed the end zone on a 6-yard run to push Hermiston's lead to 31-21.
But Churchill was resilient every time the Bulldogs looked to wrap things up. With just over a minute left in the third quarter, Blackburn hit Marshaun Tucker on a 48-yard touchdown pass to cut Hermiston's lead to just 3.
Churchill had a chance to tie the game at 31, but missed a 42-yard field goal attempt early in the fourth quarter.
Again, Hermiston took advantage of a turnover when Churchill snapped the ball over Blackburn's head and Hermiston's Eric White recovered the ball on the Lancers' 45 yard line. Hermiston ate up clock on the subsequent drive and scored when James found Neal again in the end zone on a 24-yard pass to push Hermiston's lead to 38-28 with just under three minutes left in the game.
Churchill used up about 2 minutes of clock on their next drive and scored on a quarterback keeper to make it 38-35 with just 33 seconds to go.
Hermiston recovered the expected onside kick and ran out the clock to claim the state title. Saturday's title game was the last OSAA game for Hermiston, who will move to the Mid-Columbia Conference next year and will primarily play teams from the Tri-Cities and Walla Walla.
In 17 playoff appearances as members of the OSAA, Hermiston's overall record was 13-15 with four quarterfinal appearances, two semifinal appearances – and now two state championships.
The win Saturday night was Hermiston's 10th in a row, giving them an 11-2 season record. The state title was a first for head coach David Faaeteete. He was the defensive coordinator for Hermiston when they won the title in 2014 under coach Mark Hodges.