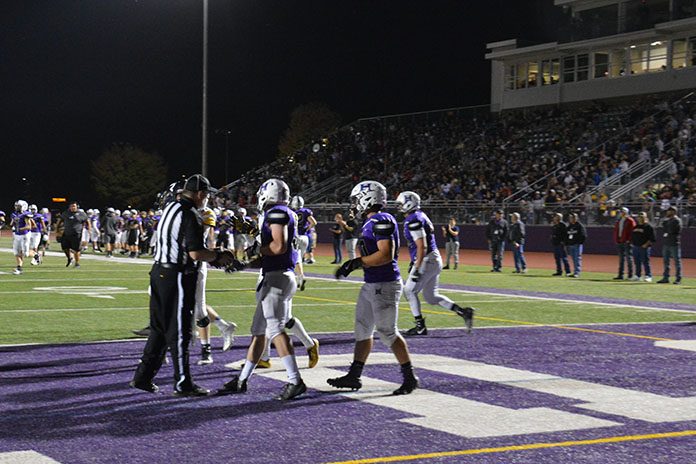 It was all Hermiston all night on Friday as the Bulldogs scored early and often in a 56-0 win over the Southridge Suns at Kennison Field.
The Bulldogs wasted no time getting on the board on a Wyatt Noland touchdown run, followed by a rushing touchdown by quarterback Andrew James to give Hermiston a quick 14-0 lead.
That margin ballooned to 27-0 at the end of the first quarter thanks to two more rushing scores by Noland – a 2-yard scamper with just under 3 minutes to go in the first and a 3-yard run with a little more than a minute left in the quarter.
The Bulldogs cruised in the second quarter, scoring on a 20-yard touchdown pass from James to Trevor Waggner early in the second quarter.
The final score of the half came when Hermiston got the ball with just 51 seconds left in the half and the ball on their own 46. At this point, James sort of took over, hitting Trent Pitney on a 12-yard pass and Garrett Walchli on a 26 yard pass. Those connections set up James' 13-yard scoring pass to Jordan Ramirez. The drive covered 54 yards in just 30 seconds and sent Hermiston into the locker room with a 41-0 lead.
That put the 40-point mercy rule into effect and the clock ran nonstop in the second half.
On their first possession of the second half, Hermiston drove 79 yards, scoring on a 2-yard touchdown run by James with 3:41 left in the third.
The Bulldogs wrapped up the night's scoring on a 2-yard touchdown run by Tysen Salinas midway through the fourth quarter to give Hermiston the 56-0 rout.
Hermiston handed Southridge their biggest loss of the season. The Suns have been outscored 221-6 through the first five games of the season.
As he has all season, Noland had a huge game for Hermiston, rushing for 153 yards on 15 carries and 3 scores. Guiomar Garay tallied 49 yards on 5 carries, while James ran for 44 yards on 9 carries and 2 touchdowns. James threw for 168 yards on 11-for-16 passing and 2 touchdowns and an interception.
James connected with seven different receivers on the night with Ramirez leading the way with 3 catches for 66 yards and a score.
The Bulldogs improve to 4-1 on the season and will face the 3-2 Chiawana Riverhawks in Pasco next Friday.