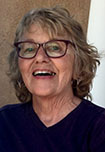 As of Aug. 18, 2022, Carol Ann Fischer Lafferty of Umatilla will no longer be here to make us laugh with her biting wit, or lift us up with a helping hand or comforting words. Carol has removed herself from us, joining her mom (Phyllis Fischer) and dad (John Fischer) at the heavenly coffee pot where they await the rest of us to join them. She was 75.
Carol was born in Aberdeen, S.D. on May 11, 1947, the first of 14 children. The family relocated to Ontario, where Carol was joined over the years by the rest of her siblings. Carol graduated high school from St. Francis Academy in Baker City and attended Treasure Valley Community College in Ontario, where she studied nursing. Soon after the birth of her youngest sibling, Carol decided enough was enough and moved to the Portland area, where she began her career as a nurse. It was there that Carol met and married Mike Lafferty. They expanded their family with two children, Meagan and Sarah. The family moved to Central Oregon and eventually to Umatilla, where Carol continued her nursing career. Carol remained a caregiver even after retirement. Her daughter, Sarah says Carol was the most spirited, vibrant and accepting mother. These qualities, along with Carol's unconditional love, made Sarah the person she is today.
Left behind without Carol are her husband, Mike Lafferty (Umatilla); daughters, Meagan and Sarah; grandchildren, Jaimen Garza, Breanna Blackheart, Lynn Lowney, Yevonne Gall, AJ Mealey and Sophie Mealey; and five great grandchildren.
Carol's siblings remain behind to tell stories and reminisce about the oldest who could kick butt with the best of them but who was always first to give a hug or lend an ear. In descending order so there's no arguments, those siblings are Donna (Bruce) Needs, David (Martha) Fischer, Fr. Rick Fischer, Kathy (Gary) Langley, Jane (Bill) Burris, Linda (Bruce) Lemos, Bill Fischer, Dianna (Chris) White, Sandy Fischer, Roger (Karla) Fischer, Mike (Deb) Fischer, Kris (Monte) Hurd and Anne (Larry) Haney. Innumerable nieces, nephews, cousins and friends will also continue to keep a part of Carol here with their memories.
A celebration of life will be held at 1 p.m. on Saturday, Oct. 1, 2022 at Burns Mortuary Chapel in Hermiston.
To leave an online condolence for the family, please go to burnsmortuaryhermiston.com.
Burns Mortuary of Hermiston is in care of arrangements.