The city of Hermiston is currently auctioning off unused water supply line essentials on the online platform Municibid.
This online auction is open to the public at municibid.com and ends on Tuesday, Aug. 9. Oregon residents are able to bid in this government auction online, 24/7.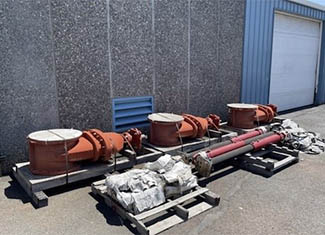 Up for auction are three 18″ FLG or MJ Post Indicating Valves & three Kennedy Indicator Posts. They are frequently used for water shutoff for main lines and can also be used for irrigation (perfect for another municipality or an agricultural company).
All of the proceeds – 100 percent – from these auctions is going right back into improving the city of Hermiston's local community. These funds are used for road maintenance, setting up local events for residents, community programs, public safety initiatives, and more!
The water shutoff and irrigation system essentials have never been used. The three 18″ FLG or MJ Post Indicating Valves are C515 and epoxy coated and feature a resilient wedge and non-rising stem. The three Kennedy Indicator Posts are for P I Gate Valve 7' 8″ OAL.
Founded in 2006, Municibid, a four-time Inc. 5000 member (2018-2021), serves over 4,000 governments and schools across the US who use Municibid to auction off fire trucks, buses, ambulances, heavy machinery, agricultural equipment, and other surplus goods to the public online.