The city of Hermiston has hired Brandon Artz as the director of the Hermiston Parks & Recreation Department.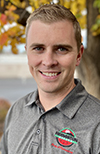 Artz has been the department's recreation supervisor since 2017, planning many of the programs, activities and events created by the city. In his new role he will oversee the city's parks, trails, landscaping, programs, events, and facilities, including the Community Center and Hermiston Family Aquatic Center.
"Brandon has demonstrated the vision, energy, and leadership that will continue to give residents a wide range of recreational opportunities and public places to enjoy," said Hermiston City Manager Byron Smith. "He is a major asset to the community, and we're excited to have him continue to take the department in a positive direction."
Following the retirement of Larry Fetter in September, the city launched a national search for the next director. After receiving dozens of applications and conducting multiple interviews, the search committee determined Artz was the best candidate. He starts the new role immediately.
"Parks are the front door to our community, creating a sense of adventure, peace, and a connection to nature," said Artz. "Recreation programs foster valuable connections and bring the community together, making Hermiston a desirable place to live. Seeing people enjoying our playgrounds, programs, and events are what makes working for this department so rewarding. I look forward to continuing to grow our amazing parks, trails, and programs and bringing the wonderful people of this city outside and together."
The city of Hermiston has 15 parks that cover more than 100 acres, 10 miles of trails, and a Community Center that hosts more than 200,000 event and program participants annually.
Artz and his wife, Cristal, live in Hermiston with their three daughters.