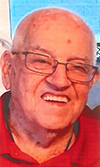 Clarence Edwy Hughes died on June 11, 2020 in Hermiston at the age of 88.
Clarence was born on Sept. 8, 1931 in Creston, British Columbia, Canada to Magnus Wesley Hughes and Dollie May Hughes.
When Clarence was 7 years old, his family moved to Stanfield. Clarence attended school in Stanfield and after graduation joined the U.S. Navy in July 1950. On Aug. 27, 1952 while he was serving on the USS Sarsi, his ship struck a mine and sank. After spending over eight hours in the water, he was one of 92 surviving crewmen of a crew of 97. Clarence was honorably discharged in May 1954 and returned to Stanfield and started working at the Umatilla Army Depot in August 1954, retiring 29 years later in December 1983.
Clarence married Beth Ball on July 24, 1991 at their home in Stanfield, where they loved hosting family and friends at their house and beautiful backyard for holidays or events at any time.
Clarence was a strong fighter and true survivor of several major life events. He loved the outdoors, camping, fishing and spending time in the mountains. His family was amazed at his strength and will to live. Clarence was a very loving husband, dad, grandfather and great grandfather who will be truly missed.
He is survived by his wife, Beth of Hermiston; sister, Muriel Porter of Astoria; brother, Clyde Hughes of Rexburg, Idaho; daughters, Renee Pollick (Jim Davis) of Hermiston and Lori Varnum (Patrick) of Prineville; sons, Michael Hughes (Yvonne Michel) of Kennewick, Wash. and Larry Brower (Teresa) of Hermiston; stepdaughters, Donna Van Dis (Fred) of Roseburg, Rene Gutierrez (Kent) of Hermiston and Doreen Quick (Gary) of Hermiston; 18 grandchildren; and 24 great grandchildren.
Clarence was preceded in death by his parents and a sister, Eunice.
A celebration of life is being planned for a later date.
The family wishes to thank Avamere Assisted Living in Hermiston for their loving compassion and care they showed Clarence in his final days.
Those who wish may make memorial contributions to Vange John Memorial Hospice in Hermiston.
Please share memories of Clarence with his family at burnsmortuaryhermiston.com.
Burns Mortuary of Hermiston is in care of arrangements.