Clifford James Auvil V died Saturday, March 23, 2013 at his home in Stanfield at the age of 23.
He was born May 16, 1989 at Staten Island, N.Y., to, Clifford James "Cliff" Auvil IV and Patricia Ann "Trish" Guagenti.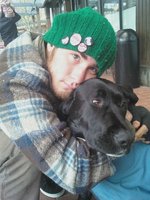 Clifford was raised in Paso Robles, Calif., and at age 12, moved to Hermiston where he graduated from Hermiston High School in 2007. He then attended Culinary School. He served in the National Guard from September 2010 through September of 2011 in Iraq. After his service he worked as a cook for several restaurants including Nookies Restaurant & Sports Bar. Cliff was a star lacrosse player in high school. He enjoyed woodworking, horticulture, skateboarding, snowboarding, kayaking, and he loved music.
He is survived by his parents, Cliff and Trish Auvil IVof Hermiston; grandparents, Pasquale and Ada Guagenti of Staten Island, N.Y.; grandmother, Helen Louise Auvil of Sacramento, Calif.; sister, Ashley Michelle Flowers of Hermiston; brother, Zachary Alton Auvil, stationed at Coronado, Calif., currently serving in the Navy.
He was preceded in death by his grandfather, Clifford James Auvil III.
A memorial service with military honors will be held on Thursday, March 28, 2013 at 11 a.m., at Burns Mortuary Chapel in Hermiston. A gathering will be held at 160 N.W. Logan Drive in Hermiston following the service.
Memorial contributions may be made to the Portland VA Medical Center in Portland.
Please send condolences at burnsmortuaryhermiston.com
Burns Mortuary of Hermiston is in care of arrangements.