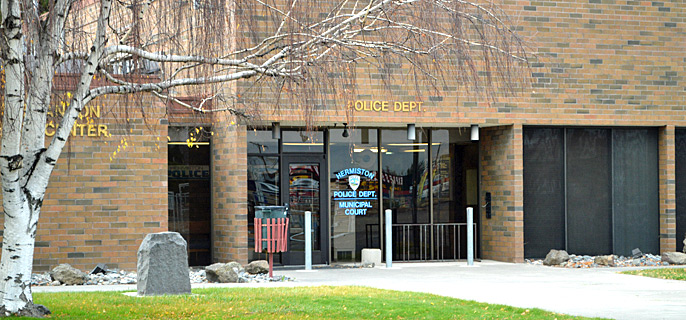 Crime in Hermiston fell 35 percent in 2014 from the previous year, according to a new report issued by the Hermiston Police Department.
The report shows that while some types of crime increased during the past year, the overall number of reported crimes were down 40 percent from the 10-year average.
Overall, crime was down 35% from 2013 and down 40% from the 10-year average. Though we did experience some spikes in person/violent crimes we are still down 43% from the 10-year average.
There were no homicides in 2014 and there was a 60-percent reduction in reported rape cases, with two reported in the past year.
There were 14 robbery cases in 2014, but Hermiston Police Chief Jason Edmiston said six (or 43 percent) involved shoplifters who either attempted, threatened or used physical force to escape, which elevates the crime from shoplifting to robbery. Edmiston also said two of the cases involved controlled substances being stolen from someone.
"With the passage of Measure 91 (which legalizes the use of recreational marijuana in Oregon), I anticipate we will experience even higher robbery rates in the coming years due to this very thing – one person robbing another of a controlled substance," Edmiston said.
The department also saw a 100-percent increase in aggravated assault going from four incidents in 2013 to eight in 2014.
"Though these numbers are still relatively low (55 reported incidents in 2007), this is a category to be very mindful of as any kind of assault can lead to more significant crime," the police chief said.
There was a 21-percent reduction in burglaries in 2013.
"This is very encouraging to me, as we have made concerted efforts to put more emphasis in our criminal investigations starting in 2012 when I was appointed chief of police," said Edmiston. "As with robbery, I believe in the coming years we may experience increases in burglaries where the item stolen is a controlled substance."
The police department also saw a 37-percent reduction in larceny last year.
"Which is great news, but I'm not sure I can pinpoint the exact reason why this is the case," he said. "This department continues to be a full-service agency, meaning no matter how minor the theft is we generate a report and criminal investigation. With officer self-initiated activity up 18 percent in 2014 as compared to 2013, I am hopeful a contributing factor could be having more availability to be proactive versus reactive."
Auto thefts were down significantly in 2014, from 72 in 2013 to 34 last year. Edmiston said an arrest of a repeat offender may have something to do with the drop in auto thefts.
Early in 2014, a person well-known to us and notorious for stealing vehicles was sentenced to just over nine years in prison for his actions," Edmiston said. "I think it is safe to say he was a contributing factor to this decline."
Arson was up from 1 case in 2013 to 2 cases in 2014.
Edmiston showed his appreciation to community members for their support.
"The dedicated men and women of the Hermiston Police Department would like to thank our citizenry for the support to be able to perform our jobs at optimal levels," he said. "We may not get it right every time, but I am committed to ensuring we hold ourselves accountable and learn from any mistakes we make."