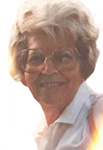 Delores "Dee" Clark of Umatilla passed away comfortably at her home in Umatilla surrounded by her family on Jan. 25, 2023. She was 93 years old.
She was born on April 2, 1929 in St. Francis, Minn. to Walter and Hilma Small.
Dee grew up in Minnesota with her nine siblings, Blanche, Ruth, William (Bill), Violet (Vi), Clarence, Norman, Virgil, Lyle and Jerri. One of Dee's best stories she shared about growing up in Minnesota was putting on plays with her siblings for her mother to watch. Another was the time she and her siblings sent their mother, Hilma, down a steep hill in a wagon, and though she fell over, it was a hilarious core memory for all.
She married Harvey Pool. She and Harvey adopted a son, Jeff and a daughter, Missy. Dee's children were her pride and joy; she lived her life for them. Dee later married Roy Fredrickson and acquired several stepchildren, who she loved dearly. Roy preceded Dee in death in April 2000 after 25 years of marriage. Dee spent the last 19 years of her life married to Norman Clark, during which she gained even more family that she loved equally. Norm and Dee had a passion for the outdoors and Jack Russel dogs. They enjoyed mushroom hunting, making Christmas brittle for family and friends, and spending time with family. Dee thoroughly enjoyed canning the fish Norm caught and vegetables grown in their garden.
"Grandma Dee" was a grandma to everyone, and if you did not have a grandma or family, she would be it. Family was the most important part of her life.
Dee volunteered for the schools, senior center and any place that needed her. Her passion was helping others. Her love and pride for community is shown in all the people and places.
She was very outgoing and enjoyed many social activities. Some of her favorite things to do were playing bunco, hanging out at the Eagles Lodge, and canning (she had a whole room dedicated to this hobby). Per her grandchildren's memories, she made some of the best canned salmon and canned pickles. Some of her favorite memories include staying up late and playing Skip-Bo with her grandchildren, and when they would fall asleep before her, she would play solitaire. Dee threw the best family events, as well. Her grandchildren boast about her Easter, Fourth of July and Thanksgivings, stating, "These were the three major holidays she went all out for us!"
She leaves behind her children, Jeff and Missy, and stepchildren; grandchildren, Joe, Janis, Holly, Carrie, Jordan, Phillip, Andrew, Mindy, Donavan and many others; great grandchildren, Savannah, Kaleb, CJ, Elijah, Scott Jr., Kayla, Breanna, Teagan and others; great-great grandchildren, Isabella, Zayden, Willow, Ayvin, Ryatt, and too many other grandchildren and great grandchildren to name. Other survivors include her husband, Norman Clark and stepchildren, Bill, Linda, Sandy, Ollie, Lisa, Mike, Judy, John, Joanna and Sharon.
A celebration of life will be held at Hermiston Family Fellowship (formerly known as the Country Church) on Diagonal Road on Saturday, Feb. 4 with Pastor Aaron Becker officiating at 1 p.m., with a potluck to follow. The address is 32742 Diagonal Road.
You may leave an online condolence for the family at burnsmorturaryhermiston.com.
Burns Mortuary of Hermiston is in care of arrangements.