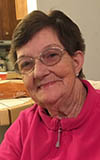 Dominica Laca Irusta of Hermiston passed away on May 10, 2022 at the age of 87.
Dominica was born in the Basque region of Spain in the city of Ispaster, province of Bizkaia on July 6, 1934 to Juan Jose and Geronima Laca. Dominica was the fourth of six children.
Dominica married Juan Irusta in Spain on Feb. 11, 1961 and soon thereafter started to build their family. Within a few years, they had a family of three boys. Juan departed on his first trip to the United States for work in 1965. For five years, she raised Aitor, Ander (Red) and Joseba (Tony) with the help of nearby friends and family. The fourth son, Imanol (Manuel) joined the family in 1970 during Juan's visit home before returning back to the U.S. to continue working. Dominica, now with four boys, continued to raise a family for all intents and purposes as a single mom. If there is any question of where Dominica honed her mental fortitude, you can look at these years of early motherhood. In August 1975, Dominica was able to move with their four boys from Spain to a new home in Hermiston to join Juan.
Dominica had many loves in her life: she loved to laugh, loved to cook, loved to dance and loved to garden. On the flip side, she was terrible at receiving gifts, and on more than one occasion she could be caught regifting an item to someone she thought was more deserving than her. That is just how she rolled.
Of all the things she loved, none compared to her deep unwavering love of her family. She was an amazing wife, ama (mother) and amuma (grandmother) who would do anything for her boys. We love you Ama and Amuma!
She is survived by her sisters, Irene and Mari Angeles of Spain; sons, Aitor and Tony (Susan) of Hermiston, Andres (Trudy) of Scottsdale, Ariz. and Manuel (Mikka) of Hood River; six grandchildren, Kimberly (Derek) Sanders, Alex (Courtney) Irusta, Sydney Irusta, Josie Irusta, Parker Irusta and Kaitlyn Irusta; and five great granddaughters.
Dominica was preceded in death by her husband, Juan; two parents; one sister; and two brothers.
A graveside service will be held at Hermiston Cemetery on Tuesday, May 17 at 1 p.m.
A gathering with food and beverages will follow the service at 33838 E. Spearman Road, Hermiston. Please bring your memories and stories to share with family and friends.
Donations can be made in Dominica's name to Vange John Hospice in Hermiston.
Funeral arrangements are being handled by Burns Mortuary.