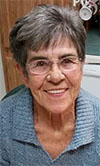 Donna L. Blankenship of Hermiston died on Oct. 8, 2020 in Hermiston at the age of 80.
She was born on March 13, 1940 in Custer, S.D. to Ralph and Helen Coleman Ferguson.
Donna lived in Custer, S.D. until the fall of 1950 when her family moved to Boardman, and she resided in Boardman until moving to Hermiston in 1956. Donna attended high school in both Boardman and Hermiston and graduated from Hermiston High School in the class of 1958. In high school, Donna played and excelled in volleyball and was a four-year letterman in the sport. Later in life, she enjoyed playing on a slow pitch softball team with friends.
Just out of high school she married the love of her life, Don C. Blankenship on Aug. 1, 1958, and they were married for 59 years at the time of Don's passing. Don and Donna were blessed with and raised four wonderful children in Hermiston: Dawn Renee, Craig, Larry and Darcy.
Donna was fortunate to be a stay-at-home mother until her first three children entered school. At that time, Donna went to work for Burnham's Department Store in Hermiston, where she worked in sales and as a buyer until 1978. One of the fondest memories she had of working at Burnham's was attending the annual buyer conventions. In July 1978, Donna went to work for Lamb Weston in Hermiston, where she worked as an inventory clerk and in accounts payable, which she did until her retirement in 2005.
Donna enjoyed traveling to watch her children, grandchildren and great grandchildren play sports. You could always count on hearing her voice above the crowd, cheering her family on and encouraging the entire team. Donna absolutely loved spending any time she could with her grandchildren and great grandchildren, as they brought her so much joy. She also loved to read, water
ski, camp along the Columbia River, complete crossword puzzles, tend to her roses, attend bowling tournaments with her best friends, and she especially loved her trips to the National Bowling Tournament in Reno, Nev. Donna also enjoyed her weekly visits with her lifelong friends where they played Dominos and card games, which she was able to enjoy until her passing.
Donna will be remembered as a fun-loving woman who loved her family, lifelong friends and all those who were blessed to be a part of her beautiful life. She had the most beautiful smile and a laugh that was so contagious you couldn't help but laugh along with her. She will be deeply missed by everyone who had the absolute pleasure of knowing her.
Donna is survived by sons, Craig (Janet) Blankenship, Overland Park, Kan. and Larry (Kristin) Blankenship, Hermiston; daughter, Darcy (Patrick) McDonough, Hermiston; and her beloved 11 grandchildren and 17 great grandchildren.
Donna was preceded in death by her parents; her husband, Don; her loving daughter, Dawn Renee Ransom; brothers, Chuck and Keith Ferguson; and her great granddaughter, Delanee Blankenship.
A graveside funeral service following state guidelines will be held on Saturday, Oct. 24, 2020 at 11 a.m. at the Hermiston Cemetery.
Please share memories of Donna with her family at burnsmortuaryhermiston.com.
Burns Mortuary of Hermiston is in care of arrangements.