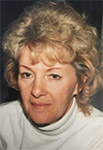 Dorothy Sue (Holmes) Geer of Stanfield passed away on July 3, 2021 in Aloha at the age of 84.
She was born on Dec. 2, 1936 in Wentworth, Mo. to Ruben and Alta Holmes.
She was the eighth of nine children. She had fought a courageous battle against health issues for some time. She passed away peacefully while being lovingly cared for at her daughter Katrina's home in Aloha. Her family expresses thankfulness to the hospice workers who helped care for her. She had lived most of her life in the Hermiston and Stanfield area.
She grew up in Yakima, Wash. and often talked about the home her family built themselves from river rock. She had happy memories of her large family and her childhood home.
In 1954, she married Wesley Brooks. The union produced four children: a son, Perry Brooks (who predeceased her); a daughter, Susan Petersen; a son, Brett Brooks; and a daughter, Laurie Longhorn. In 1977, she married Dan Fullerton. They had a daughter, Katrina Fullerton. She became mom to daughter Shanna Fullerton. In 1992, she married Richard Geer. They have resided in Stanfield many years, and he is her surviving husband.
She is survived by a brother, Bob Holmes. She is also survived by numerous grandchildren and great grandchildren, who she always kept close to her heart, always asking about each one.
She was a member of the Hermiston Seventh-day Adventist Church. She attended regularly until her health declined.
She had a deep love for her family, always helping them in whatever capacity she was able to. She enjoyed gardening and being outdoors. Her flowers always
brought her joy. She also enjoyed the beauty of trees. She had a love for animals and had many pets throughout her life. She enjoyed camping in the Arizona desert with her husband Rich for vacation. She enjoyed tranquility and loved the peacefulness of the country life. She was known to make the best apple pies and was quick to feed anyone hungry.
She will be greatly missed. She left a legacy of fortitude, strength and courage to fight, whatever the battle may be. Also many precious memories to those she shared life with. She is at peace with her Lord.
An intimate family service was held on July 11 at the gravesite in the Echo Cemetery.
Please shares memories of Dorothy with her family at burnsmortuaryhermiston.com.
Burns Mortuary of Hermiston is in care of arrangements.