Hermiston's Dan Dorran and Milton-Freewater's HollyJo Beers will face each other in November to become Umatilla County Commissioner.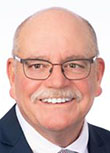 Dorran received 5,482 votes in Tuesday's primary election with Beers collecting 3,935 votes. Third place went to Patricia Maier with 2,129, followed by Jonathan Lopez with 1,622 and Mark Gomolski with 1,274.
Dorran and Beers will vie to succeed retiring Commissioner Bill Elfering of Hermiston.
The Umatilla County commissioner race was one of the few local races with more than one candidate filing. Most local city council and mayor races were uncontested.
Cliff Bentz will be the Republican nominee for the 2nd Congressional District. He will face Democrat Alex Spenser. Bentz received 3,069 votes to succeed U.S. Rep. Greg Walden who announced he will not seek re-election this year. Spenser received 849 votes.
Democrat Nolan Bylenga topped Barbara Wright (1,187 votes to 615) and will face Republican Bobby Levy who received 3,509 votes while running unopposed. They will vie to succeed State Rep. Greg Barreto.
Incumbent State Sen. Bill Hansell easily topped his opponent Garison Alger with 7,125 votes to 726. He will face Democrat Mildred O'Callaghan, who collected 2,712 votes, in November.