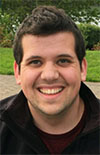 Andrew Isaac Nolan "Drew" Brown of Umatilla died on Oct. 21, 2021 in Umatilla at the age of 29.
He was born on June 28, 1992 in Salem.
He spent most of his life in Mill City and graduated from Santiam High School in 2011. Following high school, he served a two-year Spanish-speaking mission in Ohio and Indiana. He was sealed to his sweet wife, Catherine on Aug. 20, 2016 in the Portland temple. He graduated from Brigham Young University – Idaho with a Bachelor of Science in Occupational Health and Safety in 2018. He had spent the last three years working as a safety supervisor for Lamb Weston Corp.
Andrew was known and loved by many. He loved to laugh and tease and tried to spread joy wherever he went. Drew loved people and was fiercely loyal to his friends and family. A slight to a friend was a personal affront to him and he would respond accordingly. Likewise, Drew rarely met a stranger and loved serving others in need, whether he knew them or not. Although Andrew swore like a sailor and had a completely questionable sense of humor, he had a strong testimony of the gospel and Atonement of Jesus Christ.
Drew loved kittens, jeeps, bacon, small towns, Lord of the Rings, B movies and bromances. He inherited his father's love of reading and his mother's love of serving others. He deeply admired his grandfather and his older brother and tried to emulate their examples. The love of Drew's life, however, was his sweet wife Catherine, and their soon-to-be-born daughter.
He is survived by his wife, Catherine Brown; his parents, Ian Brown and Connie Tolman; his brother, Elijah and wife Bekah; his two nephews; and many aunts, uncles, cousins and friends.
His loss is felt deeply, and he will be missed by many. The world is just a bit dimmer without his light and his sweet spirit.
A funeral service will be held on Saturday, Oct. 30, 2021 at 2 p.m. at the Church of Jesus Christ of Latter-day Saints, 15 Grant St., Umatilla.
Please share memories of Andrew with his family at burnsmortuaryhermiston.com.
Burns Mortuary of Hermiston is in care of arrangements.