A Hermiston man was charged with hit and run after allegedly running into the back of school bus early this morning.
At approximately 7:30 a.m., officers from the Hermiston Police Department responded to the area of W. Sunland Avenue and S.W. 11th Street for a reported hit-and-run collision involving a school bus.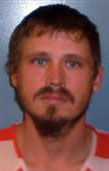 According to Cpt. Scott Clark, upon arriving in the area, officers were able to determine the school bus was struck from behind by a black sport utility vehicle (SUV) which had fled the area. There were no injuries reported at that time.
A short time later, officers received information which led them to a residence in Hermiston where the suspected SUV was located. Officers there found Ronald Raymond Epperson, 34, of Hermiston, who was subsequently arrested for two outstanding warrants along with the alleged hit-and-run offense.
He was processed and later lodged at the Umatilla County Jail and was also issued a citation for allegedly driving while suspended.