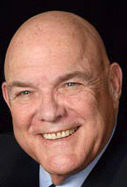 Want to talk to Umatilla County Commissioner Bill Elfering but don't know how to get in touch with him? Problem solved: Elfering has announced weekly office hours to meet with the public.
Elfering is now available every Thursday from 1:30 to 4 p.m. at the Stafford Hansell Government Center, 915 S.E. Columbia Drive in Hermiston. Elfering will also have office hours in Milton-Freewater beginning in September.
Elfering said his office hours will be subject to change depending upon the Umatilla County Board of Commissioners' schedule. Check the county webpage for board of commissioners' weekly agenda.
Beginning Sept. 10, Elfering will have office hours from 1:30 to 3 p.m. in Milton-Freewater in the Monahan Room at the public library, 722 S. Main St.