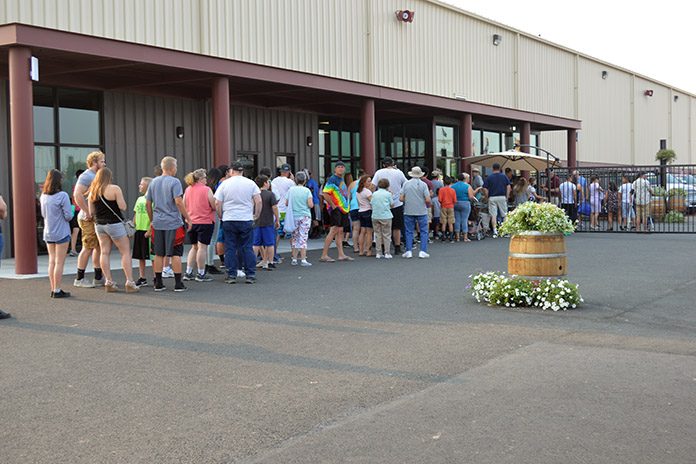 The Umatilla County Fair and Farm-City Pro Rodeo wrapped up their inaugural week at the Eastern Oregon Trade & Event Center (EOTEC) and the reviews are in – and they are mostly cheers.
This was the first year the two events were held at the new $16 million facility, following years at the old location on Orchard Avenue. The EOTEC property features 56 acres, nearly three times the size of the old fairgrounds on Orchard Avenue. The layout features more than 81,000 square feet of barn space while the old fairgrounds had just over 26,000 square feet of barn space.
The new amenities garnered rave reviews from Facebook users throughout the week.
Valoree Thompson wrote on the Northeast Oregon Now Facebook page that the venue "was wonderful. My husband and I went and enjoyed the bigger space, it was clean and bathrooms everywhere!! Great job to all involved, can't wait till next year!"
Jim Garrou wrote, "The rodeo was fine but the parking fee stunk!"
Complaints about the parking were common throughout the week and were acknowledged by Umatilla County Commissioner Bill Elfering early on.
"We know ingress and egress for the facility are not ideal but, thanks to efforts of State Rep. Greg Smith and State Sen. Bill Hansell, funds were included in the transportation bill to widen and pave both Airport Road and Ott Road," Elfering told Northeast Oregon Now last week. "Next year, it will look a lot different and really be a lot easier."
Tricia Bare-Laposi, writing on the fair's Facebook page, said she had to wait 50 minutes to get out of the parking lot following Wednesday's concert.
"Had a good time at the concert … but sitting here stuck in the parking lot is ridiculous. I would pay money to not have to sit here or not have to park here again."
Cecelia Mavis had rave reviews after spending an evening at EOTEC last week.
"We thought it was set up beautifully," she wrote. "Smooth running like a well-oiled machine. Bathrooms were huge and clean. Nice set up for animal exhibits. Nice wide pathways thru entire fair. Rodeo was great. Nice large arena plenty of seating. Good light for nighttime event. Lots of food venders both fair and rodeo. We had a terrific time."
Kristi Barre was another enthusiastic visitor.
"We went Wednesday night, the concert was great, everything was exceptional. I know a lot of people worked very long hours to get the grounds ready for everyone! They did great!! The barns were amazing, oyster bays oysters were great! There is still room for improvements but in time and a few trees for shade it's going to be amazing!"
Michelle Niems Hedgepeth raved about the indoor exhibits and the rodeo arena.
"Lots more room," she wrote. "I really like the Event Center. It is nice to have the exhibits in an air conditioned space! We were at opening night of rodeo. The rodeo arena looks exactly the same, with a few more seats! Thank you for keeping the same footprint in the rodeo!
Parking and entrances and exits need to be addressed."