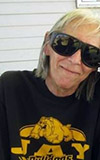 Evalena "Eva" Griffin of Hermiston passed away on March 9, 2019 in Hermiston at the age of 76.
She was born on Oct. 11, 1942 in Stratford, Okla. to Milton and Rosie Ventura McMillin.
Eva moved to Eastern Oregon as a young child, attending Ukiah grade schools and graduating from Pendleton High School in the class of 1961. She married William "Bill" Griffin Jr. on Dec. 6, 1961 in Durango, Colo. The couple lived in many Eastern Oregon communities, including Adams, Milton-Freewater, John Day and Hermiston.
Eva enjoyed watching NASCAR racing (big fan of Dale Earnhardt), camping, fishing, reading, doing puzzles, and being a HAM radio operator. She served as a Bluebird leader for several years and was a member of the Moose Lodge and Eagles Lodge.
She is survived by her children, Raylene (Curt) Pullum, Kaylene (Jim) Dickmeier, Joe (Brijit Albee) Griffin and Marlene Griffin; 19 grandchildren; and 24 great grandchildren.
She was preceded in death by her husband, Bill in 2014; her parents; and infant sons, Richard Lee and Edgar Ray.
A graveside service will be at 1 p.m. on Monday, March 18, 2019 at Hermiston Cemetery.
Memorial contributions can be made to Burns Mortuary of Hermiston to defray final costs.
To leave an online condolence for the family, please go to burnsmortuaryhermiston.com.
Burns Mortuary of Hermiston is in care of arrangements.