Jonathan Elisha Lopez, who ran for Umatilla County Commission in 2020, has pleaded guilty to initiating a false report.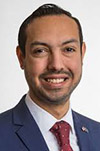 Lopez, 30, entered his guilty plea on Friday and was sentenced by Circuit Court Judge Christopher Brauer to two days in jail, 18 months of probation and fine.
According to Umatilla County District Attorney Daniel Primus, Lopez contacted the Hermiston Police Department in June of 2020 to report a threatening letter he received in his mailbox. Lopez told the police the letter contained derogatory racial terms and veiled threats.
Primus said an investigation raised concerns about the veracity of the reported letter. After being questioned by police, Lopez said he wrote the letter himself.
As part of his sentence, Lopez must write a letter of apology to the community and complete a racial bias program.