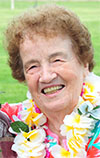 Francine Mae Crawford of Hermiston passed away in Hermiston surrounded by her family on Oct. 23, 2020 at the age of 90.
She was born on July 16, 1930 in Portland to Franklin and Gladys Ely.
She was raised on the family ranch in Ione and graduated from Ione High School. Francine married her husband of 71 years, Delmer Crawford on April 22, 1949. Francine and Delmer owned the Shell Oil bulk plants in Hermiston and Pendleton, along with several Shell service stations. Following their retirement from the oil and gas business, Francine became a real estate agent in Hermiston and was selected as Realtor of the Year prior to her retirement.
Francine loved to travel and explore new places and countries, with Hawaii being her most favorite place. Francine had a love for her family, especially her grandchildren and great grandchildren, along with celebrating any holiday possible. Christmas and the Pendleton Round-Up were her favorite times of year. Francine was a member of the Hermiston Emblem Club.
Francine is survived by her loving husband, Delmer; her daughters, Marlene (Tom) Bush of Hermiston and Anita Kongslie of Kennewick, Wash.; her nine grandchildren, Jonathan Bush, Kennewick, Wash., Justin (Susan) Bush, Scappoose; Jocelle (Bert) Quinn and Jenee Bush, Hermiston; Jacki (Darral) Moore and Loni Kongslie, Kennewick, Wash.; Jeffrey (Jean-Pierre) Correa, Brooklyn, N.Y.; Jerid (Tonisha) Falconer, Vancouver, Wash. and Jana (Mike) Topf, Pasco, Wash.; 17 great grandchildren; and three great-great grandchildren.
She was preceded in death by her parents; brother, Fayne Ely; and daughter, Cyndee Falconer.
A celebration of life service following state guidelines will be held on Saturday, Nov. 7, 2020 at 1 p.m. at Burns Mortuary Chapel, Hermiston.
We would like to give thanks to Guardian Angel Homes and the Tuscan House for the kindness and compassion shown not only to Francine but to our family.
In lieu of flowers, contributions may be made to Vange John Memorial Hospice education fund in care of Burns Mortuary of Hermiston, P.O. Box 289, Hermiston, Ore., 97838.
Please share memories of Francine with her family at burnsmortuaryhermiston.com.
Burns Mortuary of Hermiston is in care of arrangements.