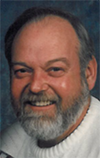 Gail M. Pullen died on Jan. 7, 2019 at his home in Irrigon after a long battle with cancer at the age of 76.
He was born on Nov. 19, 1942 in Sioux City, Iowa.
His childhood was spent in Whiting, Iowa. On Sept. 18, 1959 he married Janice Rae Switzer Reed and moved to Sloan, Iowa. He worked for Meyer Beef in Sioux City until 1974. He went to work for Packer's Engineering and moved to Kennewick, Wash., and in 1985 started his own business, Atlanta Saw. He retired in 2009 and moved to Umatilla, until he got sick. Then he moved to Irrigon to be near his grandchildren.
He received his 50-year certificate from the Masonic Lodge in Sloan, Iowa in 2016. Classic cars, fishing, hunting and hanging out with friends brought his biggest joys.
He is survived by his wife of 59 years, Janice; his daughters, Jodi Pullen of Whiting and Jackie Bithell of Irrigon; son, William Bryan Pullen of Irrigon; grandchildren, Teresa, Jamey and Jason Fraser, Kristi and Jesse Grogan, and Caelyn and Eric Pullen; six great grandchildren; sisters, Linda Johnson and Janice Black; and several nieces and nephews.
He was preceded in death by his parents, Malden and Clara Jane Pullen.
There will be a celebration of life on Saturday, Jan. 19, 2019 at 1 p.m. at the Life Tributes (Muellers), 314 W. First Ave. in Kennewick, Wash. There will be a luncheon served, so please come to eat and share memories.
Please leave online condolences for Gail's family at burnsmortuaryhermiston.com.
Burns Mortuary of Hermiston is in care of arrangements.