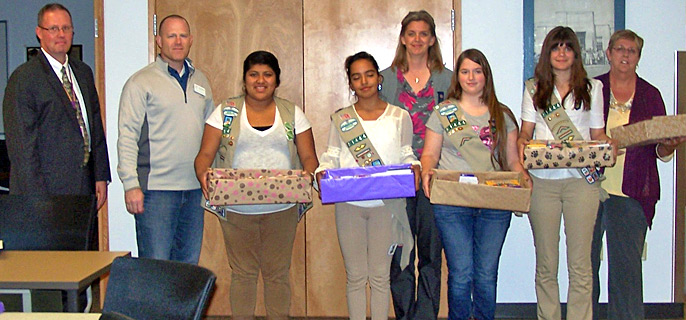 Hermiston Girl Scout Troop 51444 believes that no student should be without the equipment that they need in order to get a proper education.
That is why they chose buying school supplies for each of the five public elementary schools in Hermiston as their "giving back" service project that was tied to their cookie sale last spring.
"We set aside a portion of each box sold to buy school supplies," said Veronica Gomez, the troop's president.
Troop adviser Michelle Kane said Bi-Mart and Wal-Mart almost tripled the troop's contribution by generously providing gift cards so the girls could buy even more supplies.
"We have five girls in the troop, and each girl chose one school to shop for," Kane added.
The high school sophomores and seniors then decorated a boot box for each school, and presented their donations of pencils, crayons, glue and more at the Hermiston School District's board meeting on Monday, Oct. 14.
The troop is a part of Service Unit 22 of the Girl Scouts of Oregon and Southwest Oregon council. For more information about Girl Scouts or to volunteer, contact Brandi George, GSOSW membership and community development coordinator, at (541) 667-9696 or bgeorge@girlscoutsosw.org.