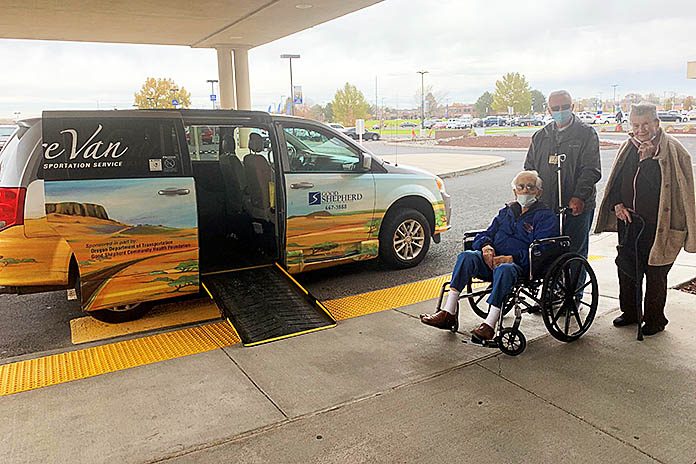 Good Shepherd Health Care System's CareVan Medical Transportation Services received a grant of $20,000 from the Rural Veterans Healthcare Transportation Program.
With the help from this grant, veterans living in CareVan's service area are able to arrange transportation to Good Shepherd for medical appointments, to pick-up medical supplies and equipment, attend classes, support groups and more.
"This is a first-time grant awarded specifically to assist veterans,"said Cindy Schaan, director of Volunteer Services and CareVan Medical Transportation Service supervisor. "We greatly appreciate this grant and look forward to utilizing these funds to benefit our veterans."
Andrew Kristalyn is a 96-year-old local veteran who served three years in the Navy as a gunner on a tanker ship.  He's been a resident of Hermiston for 38 years and takes advantage of the service CareVan provides.
"CareVan is great," he said. "We've used them several times and they are always on time and helpful to my wife and me in getting to our appointments."
CareVan's service area is within West Umatilla County and North Morrow County including Hermiston, Umatilla, McNary, Irrigon, Boardman, Stanfield and Echo.
In the last 12 months, CareVan provided 8,599 transports, of which 688 of those transports were for veterans.
'So this is a much-needed service for our local veterans," said Schaan.
The CareVan has been in operation since 2006 and provides on average around 20,000 miles of patient transports per quarter.  CareVan also provides medication delivery to patients' households within our service area.  Patients interested in this delivery service should call Good Shepherd's Pharmacy at 541-667-3652 for which, in most cases, same-day delivery is possible.  Three ADA vehicles are utilized for transports with the support of two staff members and nine volunteer drivers.  All rides are complimentary and donations are appreciated.
CareVan is available Monday through Friday from 7:30 a.m. to 6 p.m.  To schedule a ride, call 541-667-3888.  For more information visit the Good Shepherd Website.