Good Shepherd Health Care System (GSHCS) welcomed Internal Medicine physician, Bradley Tymchuk, MD, earlier this week.  He joins Brian Larsen, MD, in the Internal Medicine division of the Good Shepherd Medical Group.
Despite interviewing throughout the Pacific Northwest, Tymchuk knew he was home the moment he visited Eastern Oregon.  With hometown roots in Alberta, Canada, he found the Hermiston community to be pretty close to home and now says his roots are planted again.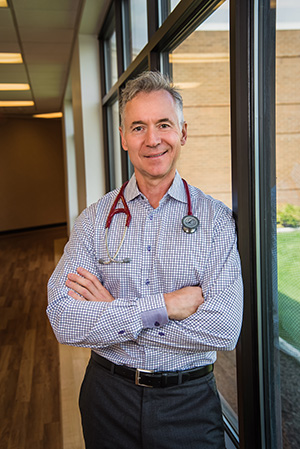 "I was looking for a rural community to settle back into," he said. "Coming from the prairies, I'm used to the slower pace and abundant agriculture this community offers.  I'll take a tractor over the subway any day."
For Tymchuk, choosing this type of medicine was easy because he likes working with complicated cases.  In addition to short-term primary care, Tymchuk looks forward to treating his patients over the long-term for various simple and complex diseases; such as diabetes, heart disease, gastrointestinal issues, hypertension, cholesterol problems and lung issues.
"Building relationships through empowerment, education and trust is my mission for developing health and wellness goals and strategies, as a shared responsibility between me and my patients," said Tymchuk.  "My goal is to focus on evidence-based guidelines and systems-based healthcare to create a personalized approach in understanding how and why pathophysiology and lifestyle contribute to chronic illness in my patients."
Prior to completing his Internal Medicine residency at Ochsner L. J. Chabert Medical Center and Doctor of Medicine from Medical University of the Americas, Tymchuk practiced as a chiropractor for more than 10 years.
In his spare time, Tymchuk enjoys the life outdoors.  He is a competitive cyclist and continues to race in multiple disciplines.  His wife is a practicing chiropractor, and together, they enjoy keeping up with their 5-year-old son.
Good Shepherd Medical Group will welcome three more internists this fall.  New patients can find the Internal Medicine division in the Good Shepherd Medical Group clinic located at 600 NW 11th Street, Suite E-37.  To schedule an appointment with Tymchuk, call 541.567.5305.  For a more complete listing of services, visit the Good Shepherd website.