Good Shepherd Health Care System (GSHCS) has welcomed family medicine physician, Dr. Nicole Patching, to the Good Shepherd Primary Care Clinic.
Patching joins Dr. David Shanley, Angie Hayes, FNP and JoDee Williams, DNP at the clinic, and all are welcoming new patients.  Patching is board certified by the American Board of Family Medicine.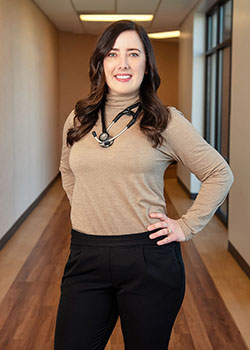 Patching said the appeal of the Pacific Northwest brought her to Eastern Oregon, having been born and raised in Winnipeg, Canada where most her family resides.
"I am drawn to the mountains, seasonal weather, and outdoor activities," she said.  "It's beautiful country to set some roots down."
She obtained her Doctor of Medicine at Saba University School of Medicine in Saba, Dutch Caribbean. Patching then completed her family medicine residency at Hennepin Healthcare in Minneapolis, Minn.
"During my medical training I liked a little bit of everything," she said. "Family medicine is that all-encompassing variety of medicine, practicing across all lifespans."
Patching sees patients of all ages and provides a wide scope of practice. Taking into account her patients' medical history, Patching looks at the whole health picture when treating certain conditions.
"My strong points are making sure that my patients understand what I am doing," she said. "Communication and trust are key in helping my patients understand what is happening with their health."
New patients at Good Shepherd Primary Care Clinic should come prepared with their past medical history, including any medications they are currently taking, and it is recommended that they bring their prescriptions with them so that dosages can be recorded accurately.  New patients are also encouraged to enroll in Good Shepherd's MyHealth Patient Portal where their appointment reminders, test results, billing and more are available at their fingertips.  Visit www.gshealth.org/myhealth to enroll today.
The Good Shepherd Primary Care Clinic is located at 620 N.W. 11th St., Suite M-103, Hermiston.
To schedule an appointment with Dr. Patching, call 541-667-3830.  For a more complete listing of services, visit the Good Shepherd website.