Good Shepherd Health Care System (GSHCS) has a new geriatrician and internal medicine physician.
Dr. Nu Nwe Tun joins Brian Larsen, MD and Bradley Tymchuk, MD as the third internist to serve the community in the Good Shepherd Medical Group division.  Adult primary care and internal medicine have been a focal area for GSHCS this year, with two more internists joining the hospital in the coming months.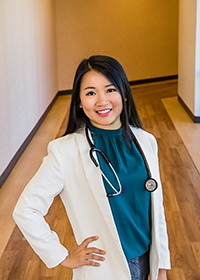 Tun hails from Myanmar, formerly known as Burma.  Myanmar is a Southeast Asian nation of more than 100 ethnic groups which borders India, Bangladesh, China, Laos and Thailand.  When asked what inspired her to choose this type of medicine, Dr. Tun fondly recalled her former years in her home country.
"I grew up with my godmother, a family medicine physician, who ran a clinic out of her home," said Tun.  "I learned much from her knowledge and experience which ultimately inspired me to pursue internal medicine.  The experience also instilled a passion in me for geriatric care and being a strong advocate for this age group."
Tun recently completed her geriatrics fellowship in the bustling metropolitan areas in and around New York City.
"I chose Good Shepherd Health Care System because I wanted to practice in a smaller community," she said. "It's a great opportunity to truly make a difference and to become a valuable resource for the patients we serve."
Tun said she places special emphasis on caring for the whole patient.
"I'm committed to providing personalized care by focusing not simply on treatment, but on preventative medicine and the well-being of the whole patient as they age," she said.
Tun provides adult medicine for patients 18 and older, and specializes in managing the health, wellness and treatment of elderly patients.  She said she treats diseases both simple and complex such as diabetes, heart disease, gastrointestinal issues, hypertension, cholesterol problems, lung issues and more.
In her spare time, Tun enjoys cooking, traveling, hiking and dancing.
"I look forward to making new friends here," she said, "I don't miss the city life!"
New patients can find the internal medicine division in the Good Shepherd Medical Group clinic located at 600 N.W. 11th St., Suite E-37.  To schedule an appointment with Tun, call 541-567-5305.  For a more complete listing of services, visit the Good Shepherd website.