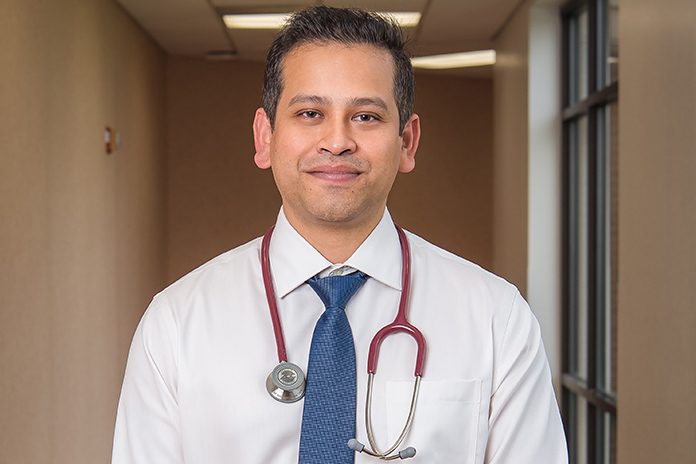 Good Shepherd Health Care System (GSHCS) has welcomed Internist & Endocrinologist Dr. Sandeep Kunwar to Good Shepherd Endocrinology.
Kunwar cares for conditions that affect the thyroid and endocrine glands, which include adrenals and pituitary.  He also focuses on providing care for patients with diabetes through diabetes and metabolism management.
"As an internist and endocrinologist, I can care for patients 18 and older with general medical conditions to very complex chronic disease management," said," Kunwar. "During my internal medicine residency at Creighton University, I was particularly interested in hormones and how they affect every system of the human body; especially the physiology, the pathology and how any deficiency in our hormones can cause many conditions and diseases. Often times with endocrinology, we are helping patients that have chronic conditions that they must deal with throughout their life.  I like the long-term relationship I can develop with my patients helping them to overcome their conditions and make the very best decisions for them."
Kunwar said he chose Good Shepherd because of the environment.
"Everyone I met here has been very kind," he said. "I feel like employees that work here are happy and like what they are doing."
Kunwar is originally from Nepal, which is where most of his family resides.
"In Nepal, there are lots of mountains so when I first visited this area, I felt like I was back home," he said. "I was raised in a small town, where people used to walk miles and miles just to get basic medical care and treatment – that inspired my passion for medicine and journey to become a doctor.  I really enjoy being part of a small community like back home. When people know each other in a smaller community there is more opportunity for caring, to have deeper connections and to truly make a positive impact on my patients' lives."
Kunwar attended medical school at the University College of Medicine Sciences & Teaching Hospital in Nepal.  He completed his residency in Internal Medicine from Creighton University in Omaha, Neb., and his fellowship in endocrinology, diabetes and metabolism at University of Nebraska Medical Center in Omaha.
In his spare time, Kunwar and his wife enjoy traveling and look forward to exploring the Pacific Northwest.
Good Shepherd Endocrinology is welcoming new patients.  To schedule an appointment with Dr. Kunwar, call 541-567-5305.  For more information about Dr. Kunwar, visit the Good Shepherd website.
Good Shepherd is located at 600 N.W. 11th Street, Suite E-37 in Hermiston.