The Hermiston Police Department is asking for the public's help in locating a man who allegedly fled from police on Tuesday while carrying a gun that fired a shot when it was dropped to the ground.
No one was hurt when the weapon discharged and no property was damaged, according to Lt. Randy Studebaker of the HPD.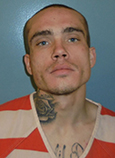 The suspect is Austin Lonnie Black, 25, who is wanted on a probation violation warrant and weapon offenses. Black stands about 6 feet tall, and weighs about 170 pounds. He has a distinctive tattoo on his neck, as shown in the photo. Studebaker said Black has been arrested more than 20 times in the Hermiston area.
Studebaker said Black allegedly fled from HPD officers on foot Tuesday.
"We believe that during the chase he either accidentally dropped or discarded a loaded firearm, which fired when it hit the ground," said Studebaker.
There is a possibility that Black is still armed, said Studebaker. If anyone spots him, they are urged not to attempt to apprehend him, but to call 911 immediately.