The Heppner man wanted in connection to a homicide investigation in Morrow County was found dead in his jail cell Saturday morning.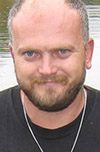 Umatilla County Sheriff's Office (UCSO) staff and detectives are looking into the cause of death of David Lee Bowles, but a press release by the sheriff's office said there is no apparent evidence of foul play.
UCSO said today that Bowles was found dead by jail staff during morning rounds.
Bowles, 43, was in custody on charges of first-degree manslaughter and felon in possession of a weapon after turning himself in on Thursday. Bowles was labeled a person of interest in the investigation of a homicide that took place in Heppner on Dec. 15.
UCSO said more information will be released as it becomes available.