The Heppner man labeled a "person of interest" in a shooting last month has turned himself into the Morrow County Sheriff's Office.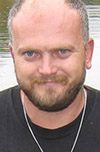 David Bowles, 43, voluntarily turned himself in on Thursday evening for outstanding warrants for manslaughter and felon in possession of a firearm. He was wanted in connection to a homicide investigation that occurred on Dec. 15.
Bowles was lodged at Umatilla County Jail.