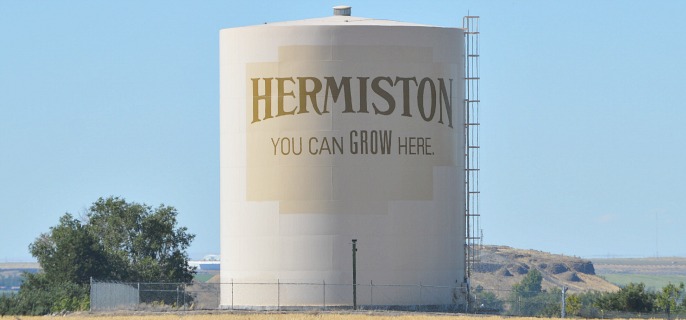 The folks at Nertwallet.com have crunched the numbers and like what they see when it comes to Oregon in general and Hermiston in particular.
A recent article posted on the financial website shows that the state of Oregon is growing 1 percent faster than the rest of the nation, four out of five counties saw job gains in 2013, and it has Hermiston at No. 2 on its list of Oregon cities "on the rise," just behind Oak Grove. Pendleton is listed at No. 7.
Here's what it had to say about Hermiston:
Hermiston's growth is fueled at least in part due to its attractiveness as a regional hub for large corporations. Seed manufacturer DuPont Pioneer added a $35 million research facility 2011, and in 2012, ConAgra Foods Lamb Weston announced a $225 million expansion at the nearby Port of Morrow. FedEx Freight also opened a new $12 million terminal in southern Hermiston in 2011. The city continues to grow, with four new subdivisions under construction.
Other cities in the top 10 were Redmond at No. 3, Lebanon at No. 4, Corvallis at No. 5, Sherwood at No. 6, Damascus at No. 8, Portland at No. 9, and Aloha at No. 10.
Nerdwallet examined population, employment and income growth in determining the rankings.
Visit Nerdwallet.com to read the entire story.
More Stories from Northeast Oregon Now:
Here's the Lowdown on the Hermiston Water Tower Paint Job
Pedestrian Struck by Hermiston Police Car
Man Arrested After Harassing Motorists
Pendleton Prison Returns to Normal Operations